On a plateau of the Corbières, near Salses, with panoramic views of sea and lagoon, visible from the A9 motorway and the N9, stands the "Porta dels Països Catalans", or 'Gate to the Catalan Countries'.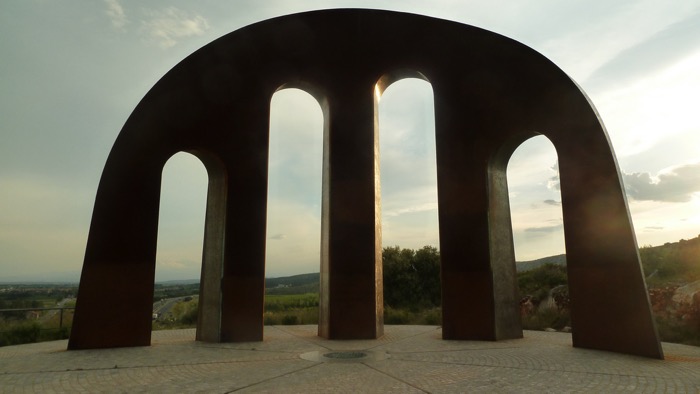 Created by sculptor Emili Armengol, this gateway to north Catalonia is a symbolic border between Languedoc and Roussillon, a welcome to new arrivals in the Roussillon, a farewell to those leaving.
Since the Languedoc, Roussillon, and Midi-Pyrénées' combined to become l'Occitanie, this symbolic monument no longer splits the two regions, but it still lets you know that you have arrived in Catalan Country!
A giant arc of four open doors, its uprights symbolise the four bars of the Catalan flag.
The aerial view of the monument was designed to resemble a sickle, referring to the Catalan National Anthem, Els Segadors. (Strike with your sickle, defenders of the land!)
The monument was originally to be built in La Jonquera, but strong protest from the north Catalonians placed it resolutely in France, a first and last landmark for visitors arriving or departing Catalonia