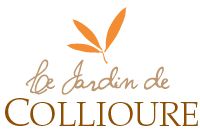 Le Jardin de Collioure
There's nothing quite Like it in Collioure!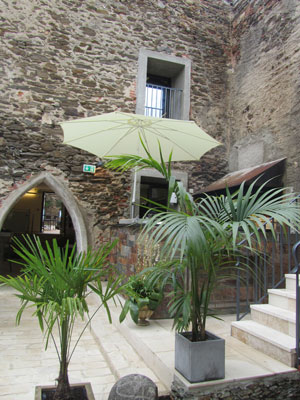 Still fairly récent on the restaurant scene, Le Jardin de Collioure in the old Dominican Convent on the Collioure – Port Vendres road, has added a new dimension to dining in Collioure.
The actual renovation project in itself is remarkable, the conversion of the derelict part of this 13th century, the oldest building in Collioure, a truly mammoth task, but owner Franck Fulliquet, dynamic and innovative Catalan 'de souche' (born and bred) rarely sits still long enough to ponder on the enormity of the task that he undertook.
With two gardens, one a roomy outdoor eating area and the other a 'bar à vin' for tapas and wine tasting, original secret passages, vaulted interior dining room, free parking, the option to choose and weigh your own fish or cut of meat, there really is nothing quite like it in Collioure.
Choose your fish from the freshly caught selection in the
display cabinet, then decide how you want it cooked – grilled on the large outdoor barbecue, baked, salt crusted, or 'à la plancha'. It will then be filleted and prepared at your table.
Or how about a cargolade of snails? Or cochon de lait, whole suckling pig roasted on a spit?
Far from the madding crowd, tucked away for maximum peace and quiet, yet in the very heart of Collioure, the house and surrounding garde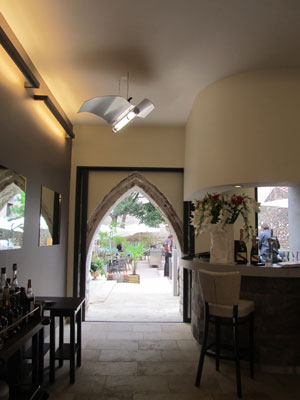 ns of the Dominican Convent and St Dominique Church in Collioure were donated to the Dominican Order in 1290.
The vast adjoining church, with vaulted roof was bought in 1926 by the wine growers of Collioure and turned into a stunning 'cave', now stocking the AOC Collioure and Banyuls wines of 160 vignerons. A guided tour of the
beautiful old building, tastings of the many wines, and a visit to the pretty little art gallery next door, following lunch or preceding dinner in the 'Jardin' is sure to make a delightful day out.
The restaurant will also rent out 'casiers' – large private wine lockers where customers can store up to 25 bottles of wine, which they can drink with friends in the pleasant garden when they wish – no obligation to eat, no charge for the service.
A premium in Collioure, the restaurant has its own small car park, and out of season, it is usually possible to find a parking spot, worth its weight in gold in the pretty but busy little town.
Good service and a spacious, tranquil and comfortable environment are amongst Franck's priorities. Price and facilities allow access to all as menus will start from 15€50, and the restaurant is well equipped for the disabled. your first visit to Le Jardin de Collioure is unlikely to be your last.
Bon appetit!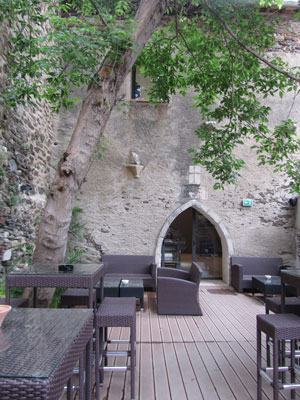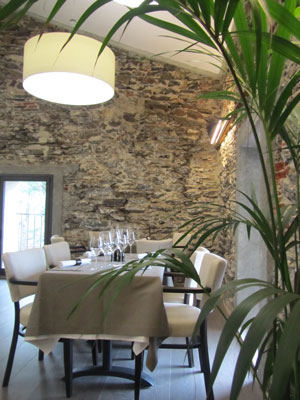 TAKE A LOOK HERE AT THE MENU