'C'est la nature qui decide'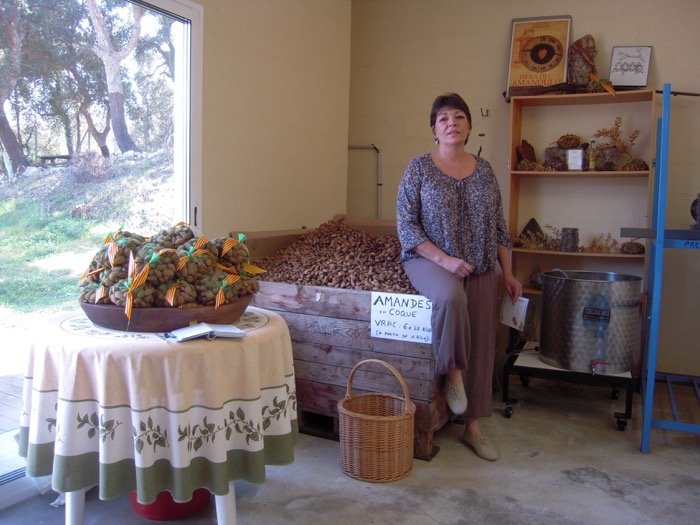 Dusky, dark eyed Catalan, Christine Llense is carrying on the tradition of a family business which dates back generations.
Surrounded by 500 'amandiers' her tiny shop and factory in Laroque-des-Albères has absolutely nothing to hide.
Almonds are pressed into oil, or chopped, broken up, baked or stirred into nougatine, almond butter, flour, cream, powder…. It is all completely natural, it is all produced on site, in front of you, by Christine herself, according to recipes that have been passed down from generation to generation.
It is fascinating to watch and delicious to taste!
Visitors to this almond paradise can watch as 4 kilos of almonds spit just one liter of oil out of the press. Or as Christine melts brown sugar in a copper pot, stirs in hand broken almonds, and rolls the mix out on a marble top to produce mouth watering nougatine 'à l'ancienne' according to her grandmother's recipe.
The full process for many of these hand made products is long, such as almond butter where powdered almonds turn slowly in a mixer for 24 hours, but the end result is truly scrumptious.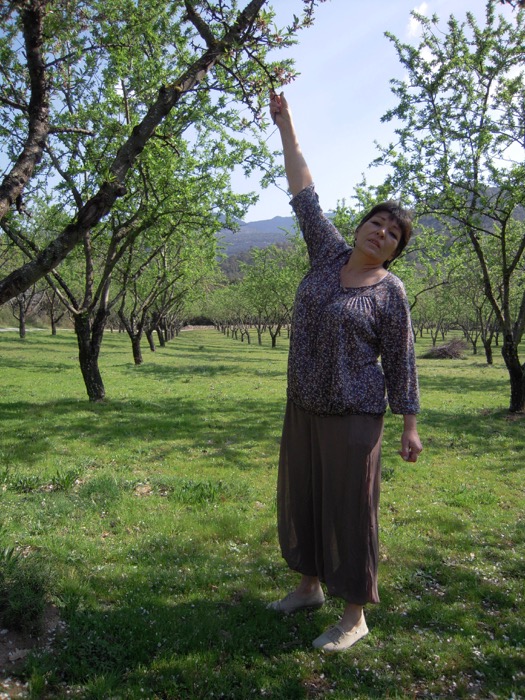 Start off by tasting. Garlic almonds, chili almonds, wholemeal or skinned, almond butter, nougatine….. Watch and listen as Christine explains, in excellent english, the picking and production process – then grab a bucket, a stick and a plastic sheet… and go pick your own!
From June to October, this can be a fun family afternoon out.
Ring Christine on 04 +68 89 11 53 or email her on christine.llense@orange.fr to check that the almonds are ready.
Depending upon the weather, almond trees blossom in late February, early March. In April/May, they go through nature's own sorting process, and bad almonds drop off the trees, leaving only the healthy. Interestingly, 80% of the flowers never become almonds.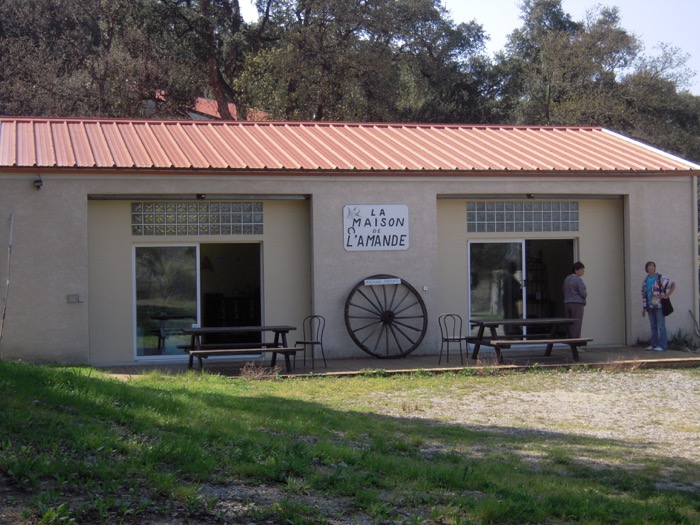 At the end of June green almonds are picked manually, with softer skins and a different taste to the almonds that most of us know well. In July and August, the 'vendange' proper begins.
Almonds do have fat in them, but it is mono saturated fat, which is great for your heart, and there is solid evidence that including a handful of almonds in your daily diet can have a significant impact on heart health. Eating two or three almonds before meals has been shown to decrease after-meal surges in blood sugar, lowering the risk of developing diabetes.
Healthy and delicious!