Tuesday 25th October 2011 – 20h30

Maria Pagés & Sidi Larbi Cherkaoui
'Dunas'

Le Grenat, Théâtre de l'Archipel, Perpignan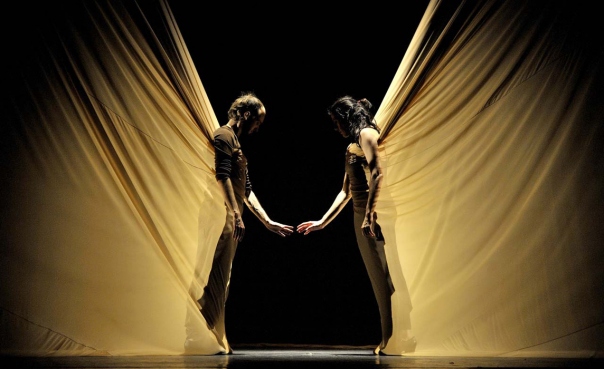 Two of the world's most eminent dance makers come together to perform this stunning collaborative work which sets out to create a dialogue between flamenco and contemporary dance. Award-winning choreographer and dancer Maria Pagés (Autorretrato, La Tirana) has shaped modern flamenco in her own image, opening the art form up to new audiences worldwide with her innovative and technically astonishing style.
Sidi Larbi Cherkaoui (Sutra, zero degrees) is one of the most prolific contemporary choreographers and dancers working today. Known for embracing all cultures, languages and forms of expression, he has been behind some of the most groundbreaking and critically revered works of recent years.
Dunas was inspired by the undulating landscape of sand dunes and is performed to live music composed by Szymon Brzóska and Rubén Lebaniegos. Powerfully hinting at the roots of both artists, the music and choreography unite the fiery passion of Pagés' classically structured flamenco with Cherkaoui's modern and culturally eclectic style.
Using minimal props such as vast pieces of nude colored semi transparent fabric, a retroprojecteur covered in sand and a pair of castanets, Ms. Pagés and her dance partner Sidi Larbi Cherkaoui, who doesn't seem to have a bone in his body, are able to transport their audience to a world built from their imaginations.
The combination of Ms. Pagés's training as a flamenco dancer and Mr. Cherkaoui diverse modern dance influences makes for a groundbreaking show that opens up the world of flamingo to a broader audience and shows how it can work in harmony with contemporary choreography.
While the two dancers might be the only performers listed in the programme, there is a third player on the stage with them. Thanks to an amazing and inventive use of lighting the duo multiply, disappear and even do battle with their shadows during the performance. And the use of the exquisitely executed live music makes for an elegant mélange of both dancers backgrounds.
More info:
‪Le Théâtre de l'Archipel‬
‪Avenue Général Leclerc‬
‪BP 90 327 – 66003 Perpignan cedex‬
‪Tel : 04 68 62 62 00‬
‪Email : info@theatredelarchipel.org‬

‪
Le Théâtre de l'Archipel‬
There is an exciting new addition to the Perpignan skyline. If you have been to Perpignan in the last few months you would have noticed a large construction along Avenue Général Leclerc and a giant concrete bubble. This bubble is ‬now‪ 'the grenat,' a large theatre space accommodating 1100 guests and the venue of the Théâtre de l'Archipel. Designed by renowned French architect Jean Nouvel, the theatre will bring a touch of prestige to the previously rundown edge of the city.‬
‪The new theatre and cultural precinct is designed to be an artistic & cultural hub for the city. Welcoming local and international artists, it is hoped the precinct will encourage a spirit of multiculturalism and social tolerance.‬
‪There is something for everyone in the season line-up including theatre, dance, circus, opera, classical & contemporary music, as well as a special programme for children. Some of the artists performing include Eric Cantona, Thomas Dutronc and Yael Naim. Ticket prices range from 11€ to 40€.‬
‪For ticket and performance information you can visit the theatre website: www.theatredelarchipel.org Here you will be able to read more about "the grenat" and take a virtual tour of the site.‬