Friday 10th February 2012

Le Grenat, Théâtre de l'Archipel, Perpignan

Dido and Aeneas

by Henry Purcell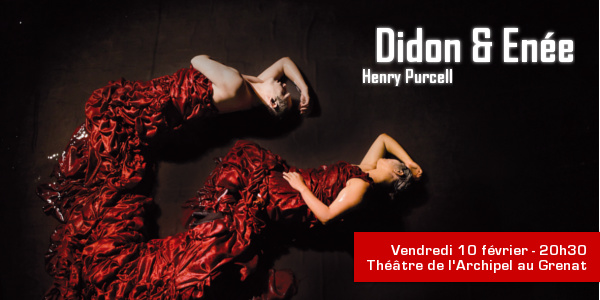 French company 'Théâtre de la Mezzanine' presents their latest show, "Dido and Aeneas", an adaptation of Henry Purcell's opera.
Known for its eccentric and dreamy performances of great visual impact, this contemporary vision of "Dido and Aeneas", is one of the most famous baroque operas of the well-known British composer Henry Purcell.
Director Denis Chabroullet, explores a whole range of scenic possibilities to transport spectators into the underground world of Carthage where Dido and Aeneas live a passion haunted by a tragic destiny.
Inspired by Henry Purcell's baroque masterpiece, Chabroullet imagined Carthage as the basement of a riparian old factory. Machines mounted on stilts, seeping water pipes, a renewed tradition of baroque theatre, appearances and disappearances, based on illusion, movement and metamorphosis.Chaos and beauty, nightmares and dreams, a lake full of water, where the floating remains of an abandoned factory lie: a mysterious space over which it extends a set of rusty pipes and a platform where the orchestra is placed on the show….
Under the musical direction of Jean-Marie Puissant, the choir haunts a ghostly universe, while Dido and Aeneas sing out the torments of passion before being caught up by Fate…
More info:
‪Le Théâtre de l'Archipel‬
‪Avenue Général Leclerc‬
‪BP 90 327 – 66003 Perpignan cedex‬
‪Tel : 04 68 62 62 00‬
‪Email : info@theatredelarchipel.org‬

‪
Le Théâtre de l'Archipel‬
There is an exciting new addition to the Perpignan skyline. If you have been to Perpignan in the last few months you would have noticed a large construction along Avenue Général Leclerc and a giant concrete bubble. This bubble is ‬now‪ 'the grenat,' a large theatre space accommodating 1100 guests and the venue of the Théâtre de l'Archipel. Designed by renowned French architect Jean Nouvel, the theatre will bring a touch of prestige to the previously rundown edge of the city.‬
‪The new theatre and cultural precinct is designed to be an artistic & cultural hub for the city. Welcoming local and international artists, it is hoped the precinct will encourage a spirit of multiculturalism and social tolerance.‬
‪There is something for everyone in the season line-up including theatre, dance, circus, opera, classical & contemporary music, as well as a special programme for children. Some of the artists performing include Eric Cantona, Thomas Dutronc and Yael Naim. Ticket prices range from 11€ to 40€.‬
‪For ticket and performance information you can visit the theatre website: www.theatredelarchipel.org Here you will be able to read more about "the grenat" and take a virtual tour of the site.‬