Au Diamant Noir, Montferrer
with Rhona Hazell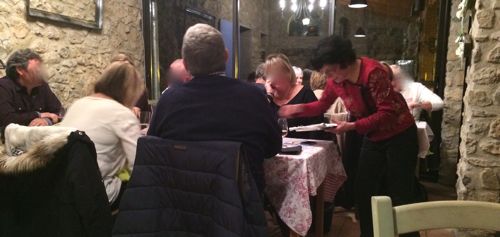 If you haven'nt yet visited the Diamant Noir, in Montferrer, I would love to share my experience with you bacause you're in for a treat. The restaurant was named Au Diamant Noir because of the reputation of the much sought after black truffle, known in this area as the black diamond.
Chef Serge and wife Micheline are your friendly and welcoming hosts. Their hospitality and attention to detail shines through in every dish, traditional home made french cuisine that is well cooked from fresh local produce, created for all seasons.
The menu is €21 three courses and €25, if you wish to opt for four. Bookings are by reservation only, both lunchtimes and evenings. The menu is not extensive, but there is a choice between meat and fish.
On my last visit, I started with mille feuilles d'endives followed by perfectly cooked cod in an american sauce served with potato and turnip purées, and finished with superb crepes with caramelised pears. Delicious. Other dishes available were red mullet with scallops as a starter, veal with potatoes and vegetables, creme catalane and a selection of local cheeses.
This restaurant may be a diamond but it is not the only gem in lovely Montferrer. The Cafe Communal/Bistro De Pays, run by the delightful Gisou, is perfect for your apero, before popping across the road for lunch or dinner at the Diamant Noir.