Summer has arrived in Canet
With the iconic Canigou ever present in the distance, and the long stretches of golden sand and rolling dunes, you could be forgiven for thinking that Canet is all about the beach……but it is so much more besides.
A modern, purpose built seaside resort, a pretty village with narrow, cobbled streets, ancient chateau and remnants of ancient walls, built to protect the villagers from marauding pirates……
Fabulous walking, riding and cycling for every level through the surrounding nature reserve, carefully preserved fishermen's reed huts, aquarium, arboretum, bird-watching, windsurfing, long and gloriously sandy beach, plenty of shops, cafes, bars, and restaurants….and a varied spring and summer events program. Great fun – and it's practically all free!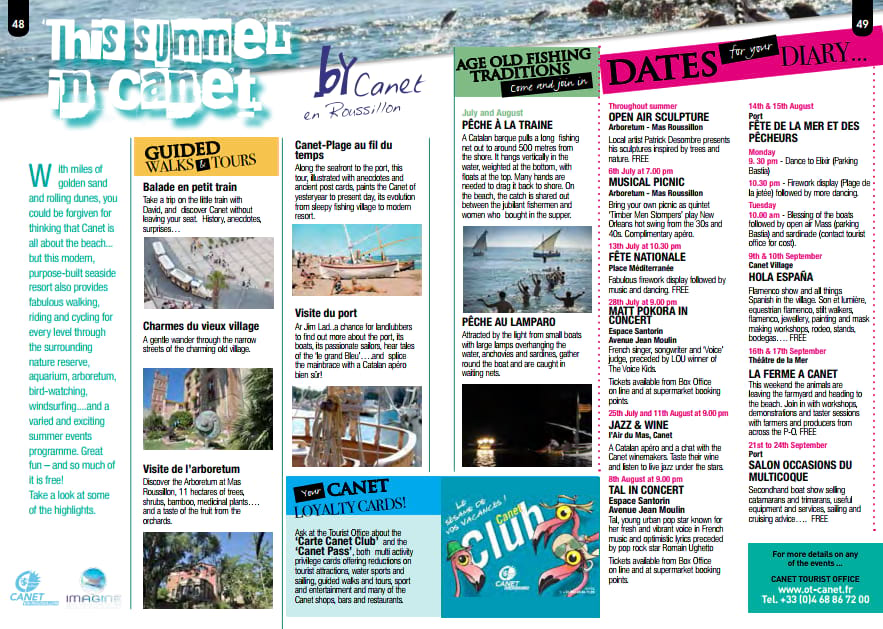 GUIDED WALKS AND TOURS
Charmes du vieux village
A gentle wander through the narrow streets of the charming old village.
Balade en petit train
Take a trip on the little train with David or Karine, and discover Canet without leaving your seat. History, anecdotes, surprises…
Canet-Plage au fil du temps
Along the seafront to the port, this tour, illustrated with anecdotes and ancient post cards, paints the Canet of yesteryear to present day, its evolution from sleepy fishing village to modern resort.
Visite du Port
Ar Jim Lad..a chance for landlubbers to find out more about the port, its boats, its passionate sailors happy to share their tales of the 'le grand Bleu'….and splice the mainbrace with a Catalan apero bien sûr!
---
PÊCHE À LA TRAINE
Come and join in this age old fishing tradition. A Catalan barque pulls a long fishing net out to around 300m from the shore. It hangs vertically in the water, weighted at the bottom with floats at the top. It needs as many hands as possible to drag it back into shore. On the beach, the catch is shared out between the jubilant fishermen and women who bought in the supper.
PÊCHE AU LAMPARO
Attracted by the lights overhanging with sides of small boats, anchovies and sardines gather in great numbers and are caught in the waiting nets.
COMING UP
Jazz and Wine
25th July / 11th August
A Catalan apéro to a musical backdrop at the Air du Mas
M. Pakora In Concert
28th July
French singer/song writer and celebrity judge from The Voice performs at the Espace Santorin.
Tal in Concert
8th August
This young, fresh, vibrant star of French pop performs at the Esapce Santorin.
Fête de la Mer et des Pêcheurs
14th – 15th August
Muscial entertainment and fireworks precede the blessing of the boats and open air Mass.
Hola España
9th – 10th September
Flamenco show and Spanish entertainment throughout the village.
La Ferme à Canet
16th – 17th September
Animals leave the local farmyards to visit… the beach!! Taste local produce, pet the animals, take part in workshops at the Théâtre de la Mer.
Salon Occasions du Multicoque
21st – 24th September
Secondhand boat show at the port, selling catamarins, timarins, equipment and offering various services and advice.
---

YOUR CANET LOYALTY CARDS!
Pick up the 'Carte Canet Club' or the 'Canet Pass', both multi activity privilege cards offering reductions on tourist attractions, guided walks and tours, sport and entertainment and many of the Canet shops, bars and restaurants.