Théâtre de l'Etang – our Theatre by the Lake
The Théâtre de l'Etang is once again OPEN!

All necessary measures will be taken to ensure health and safety standards are met.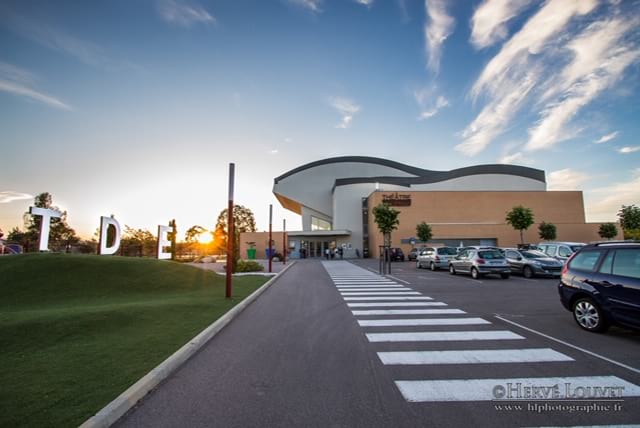 Have you been to the Théâtre de l'Etang in Saint Estève? If you haven't, you're missing out on some great entertainment at prices that make regular theatre-going easy.
Named after the lake on which it stands, the purpose-built Théâtre de l'Etang has plenty of parking space, access for the disabled and offers high quality music, dance, theatre, comedy and culture. Get there early and take a flat and easy stroll around the lake before the show.
Tickets to many of the shows are as little as 5€ so really you can treat yourself as often as you like!
Programme October – December
Saturday 14th November, Election Mister France Roussillon, 8.30pm, 12€
For the sixth consecutive year, the election Mister France Roussillon is back, with qualifiers going through to the Mister France election which will take place in La Grande Motte on Saturday 13th February (lucky for some) at the Pasino.
---
Thursday 3rd December, Cyril Tricot: Le Pays Catalan Grandeur Nature, 7pm, FREE
In 2016, Cyril TRICOT presented "Entre Ciel & Mer", a film composed of images of the Pyrénées-Orientales seen from the sky and under water. Now, he gives us with this new production, a film on "Natural Grandeur of the Catalan Country"; a play on the light, colours, places and symbols that make up our department's cultural and ecological heritage.
---
Thursday 10th – Saturday 12th December, Les Toiles Cinema Festival, FREE
This series of the Toiles film festival celebrated Russian cinema. Again, all films are screened in the original language with French subtitles.
---
Sunday 14th December, Tosca, 3pm, 12€ – 38€
Tosca, without a doubt the most popular opera by Puccini, is set in Rome, in fascist Italy between the two wars, when the painter Mario Cavaradossi comes to the aid of a fleeing political prisoner, Angelotti. Actively sought by Scarpia, the fearsome police chief, Cavaradossi's generous gesture will have terrible consequences given that Scarpia has been coveting the painter's mistress, the beautiful singer Floria Tosca, for a long time.