Théâtre de l'Etang
Our theatre by the lake
It's been a blooming tough time for culture recently so if you haven't been to the Théâtre de l'Etang in Saint Estève yet, or even if you have, there has never been a better time to support great live entertainment at prices that make it easy.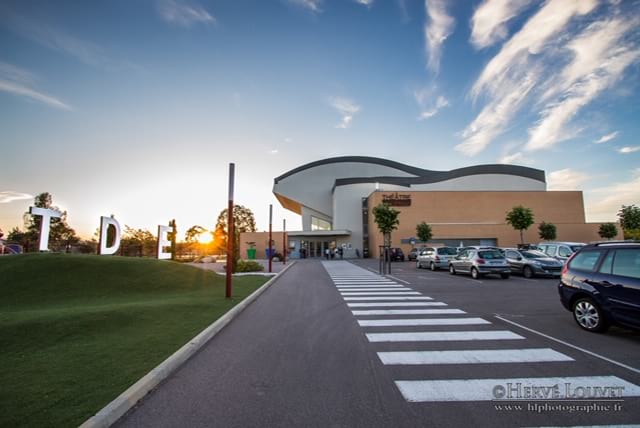 Named after the lake on which it stands, the purpose-built Théâtre de l'Etang has plenty of parking space, access for the disabled and offers high quality music, dance, theatre, comedy and culture.
When the doors are open once more, get there early and take a flat and easy stroll around the lake before the show.
Tickets to many of the shows are as little as 5€ so really you can treat yourself as often as you like!
The 800 seater theatre gives a real sense of spectacle while strict compliance with the latest sanitary protocol helps put your mind at ease. Don't forget to take your pass sanitaire!
Coming soon
Thursday 7th – Sunday 10th October, Les Toiles Film Festival, FREE
The regular free film festival this time takes on the theme of whistle-blowers, with plenty of VO (version originale) action for English-speakers.
Saturday 23rd October, 8.30pm, JARRY, 29€ – 36€
Comedian Jarry is back for a new tour, wilder, crazier but just as tender as before. Why not test your French and give it a go?
Sunday 14th November, 2.30pm, Rêve de Valse, 12€ – 38€
In Straus's 1907 operetta, a Princess will stop at nothing to win the heart of her beloved́. The libretto skilfully combines turbulent gaiety with sentimental melancholy and adds a beautiful tension to the action.
Saturday 27th November, 8.30pm, Nutcracker (Casse-Noisette), 27€ – 39€
The ballet that needs no introduction. While keeping the original classical and neo-classical staging and choreography, François Mauduit has adapted his version to a reduced number of dancers and with minimalist sets.
Saturday 11th December, 8.30pm, Christmas Show: Le Monde Magic De Chantal Goya, 29€ – 38€
Meet Bécassine, Puss in Boots, Snoopy, Pandi Panda, the Pieds Nikelés, Jeannot Lapin and even Guignol for a show full of good humor and songs. Dressed in her famous pink and green dress, Marie-Rose (played by Chantal Goya) will lead children on a magical Christmas adventure, full of surprising encounters.