HOOKY HOOKED
With Mike Thomas, Sorede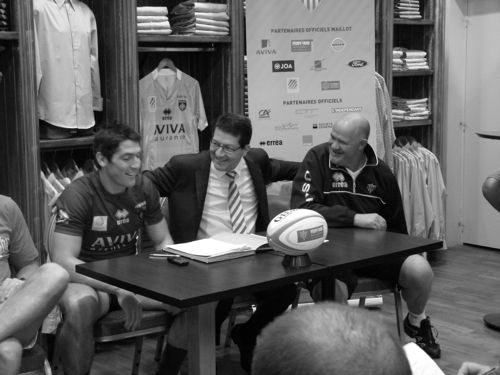 James Hook, the USAP star with 70 Welsh International caps to his name, has signed a further contract with the Catalan outfit that will take him up to June 2017.
In a press conference at the Aime' Giral (12/9) he declared his love for the club, Perpignan and the surrounding area.
These feelings were reciprocated by club officials and there is no doubt that he is held in highest regard by the President Francois Riviere, the coach Marc Delpoux and three-quarters coach Patrick Arletaz.
Monsieur Riviere (of MIllau Bridge fame), who is bankrolling the club to the extent of 10,000,000 Euros said his initial target was to secure the future of his coach Marc Delpoux and his second overwhelming priority was to keep the brilliant Hook at the Aime'Giral. James is very much a part of his long term project.
Patrick Arletaz said that he is the easiest player to coach that he has ever been involved with, always positive, keen to learn and an excellent mentor to the younger players. Marc Delpoux was equally complimentary and said that he admires his attitude in accepting his new role as an attacking full back, which slots in perfectly to the USAP style of play.
James admitted that he would love to play for his native ''Pays de Galles'' again but said that it would not be the end of the world if this did not happen.
There continues to be a real feel good atmosphere about this ''family club'' despite two unlucky recent losses. This is headed by the impressive Monsieur Riviere who appears to be a sensible man with realistic targets and a genuine regard for the traditions and values of this great old Catalan club.