WALK THE REGION……. with Christian Piquemal
ON THE TRACKS OF THE HIGHWAYMEN..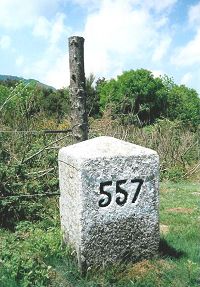 Cross the border like the bandits used to do only 160 years ago. Discover vestiges of a medieval fortress and an enchanting hermitage. Enjoy sweeping views over the plains of Roussillon and Empordà as well as the complete coastline on French and Spanish sides. Three options, easy, medium or strenuous, are available to suit any type of walker.
Access: Drive to Maureillas, between Le Boulou and Céret. In the middle of the village, at the crossroads, take direction "Las Illas" (10 km up the dramatic "Vallées Sauvages")
Cross the hamlet and park near the restaurant "Hostal des Trabucaires", one of the most famous hideaways for the highwaymen.
The walk up to Salines
The path starts on the corner of the building (yellow sign). Keep left at the crossroads, reach a wider track and follow it for 50 m to find the old path continuing on the left
Going out of the forest, reach the pass called "Col de Lli". (notice the border boundary n° 557). 0:30.
Turn right on the Spanish side.
At the signpost "Castell de Cabrera ", make the short detour to the panoramic viewpoint of the 11th century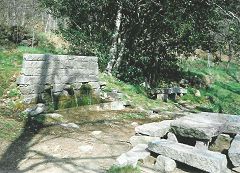 fortress. (0:55).
Back on the track, soon walk across forests of oaks and pine trees. Don't miss the old footpath starting on the right side.
After 15 mn, go out of the forest not far from the remarkable "Font dels 3 Raigs" (fountain of the 3 water streams) and reach the hermitage of Salines (church & refuge). Total time: 1:45.

Two mn from there, walking ahead, look for an outstanding little chapel hollowed in the rock.
Three options for the return journey
The family walk.
Same way down. 1:30 (TOTAL walking time: 3:15)
To the Pic des Salines.
Take the footpath on the right of the cave to reach the pass "Col du Puits de la Neige". 0:10.
Turn right (yellow signs) on the steep path along the mountain crest and to the peak (altitude 1333 m). 0:45.
The path goes down direction NE on the other side (still yellow) to finally meet a crossroads ("Col des Cireres") and the GR10 (white-red signs).
Follow it down to La Selva (old farmhouse) where it joins to the tarred road. Turn right along it to reach Las Illas. 2:25. (TOTAL walking time: 4:10)
The Trabucaires trail
Same as option 2 to Col du Puits de la Neige (or Coll de les Pedrisses). Continue straight forward to meet the white-red signs of the GR10 and follow it downwards.
Midway through, find the narrow path going straight up to a cave, "Cova dels Trabucaires" (used by the bandits to hide their loot). Go back on the main path. It leads to Col des Cireres.
From there, follow the same instructions as in option 2 to reach the hamlet of Las Illas. 2:50 (TOTAL walking time: 4:45)