AL REC
Restaurant-Epicerie-Café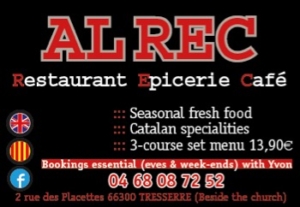 Welcome to this old-fashioned mixture of a small restaurant/café and grocery where you can also purchase local produce and meet the natives!
Run by Yvon, who delights in speaking English as well as Catalan, you can find AL REC tucked away beside the church in the tiny commune of TRESSERRE – not far from Tordères and Fourques.
The focal point of the village for the locals – particularly at the weekends and also on themed evenings throughout the year, you can eat in or out and enjoy good, plain seasonal fresh food including a number of Catalan specialities.
The 3-course set menu costs just 13,90€ and changes regularly. For example serrano ham salad, followed by beef kebab with home-made chips and a tasty, home-madeescalivade (marinated tomatoes, onions & aubergines), rounded off with a refreshing cherry sorbet and chunks of galia melon.
Staples include omelettes (using 3 x farm-fresh eggs) with green side salad, a selection of baguette-style sandwiches and the unforgettable 'Burger AL REC' with those real home-made chips again just like grandma used to make … there are also details of other dishes dotted around on tiny blackboards (no menus here!) according to the season.
AL REC is open from Tuesday to Sunday – bookings are essential in the evening and at the weekend.
AL REC
2 rue des Placettes
66300 TRESSERRE
04 68 08 72 52
f: Al REC