On yer bike!
with Ted and Kate Hiscock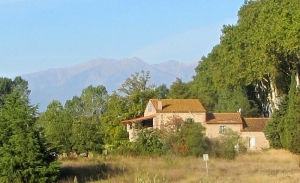 Maybe you're in training for the Tour de France, or the crossing of the Pyrenees via the GR10…..or maybe your GP has advised you to lose a few of those extra kilos! On this 'piste cyclable', there is something for everyone. Go as far as you wish along this flat, linear track, a great resource for those who want to leave their 4 wheels in favour of 2 of everything and take some exercise! I take my bike and Kate runs! I think I have the better deal!
Coming from Argelès to Le Boulou on the the 'voie rapide' , turn right at the Saint André roundabout and park. From there, simply follow green cycle signs to Le Boulou, marked out every kilometre to encourage the weak minded.
The views to the Albères and to Canigou (forever in the distance as a fantasy target to achieve), are always a reminder of how lucky we are to be alive. Sail past vineyards, cherry, peach and nectarine orchards, family allotments, stables and the gloriously majestic Chateau Villeclare, the family seat of famous French equestrian, Jonqueres d'Oriola. Oh! And look out for the private airstrip laid out on a paddock not much bigger than a football pitch! Could it be competition for Ryanair?
There are a few stretches where local traffic is permitted, but mostly your only companions will be other walkers and cyclists.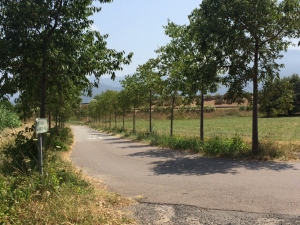 Wild meadows, Mimosa in Spring, Broom in early summer and teams of multi-coloured Laurier provide a fitting backdrop for butterflies and birds of all varieties, including the clowning Hoopoes and the visually elusive nightingales.
Back at the car, look out for the sign to Mas Cristine, a further five minute walk, to end a perfect afternoon with a 'dégustation' of their excellent wine. Santé!