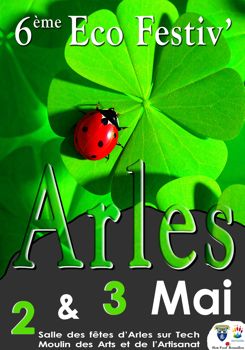 Promises to be a lively event particularly on the Sunday from 10am to 6 pm.
This year the emphasis is on local sourcing of quality products (mainy food) to reduce transport costs and support local economies plus renewable energy (lots of wood and sunshine in the department).
Lots of other activities to interest the whole family. Taking place in and around the Salle Polyvalent (on the left after the old station, bear left at the roundabout when arriving in Arles).
Includes stands of local tradesmen, farmers and smallholders, mini farm, workshops and demonstrations plus a vide grenier. Folk dancing, bar, tasting of local produce organisied by the association Slow Food Roussillon.
There will be a comprehensive presentation of wood as a viable renewable energy source with stoves and boilers on display plus solar energy in various forms. An ideal chance to discuss renewable energy projects.

Look out too for English speaking 'Energies d'ici' (ask for Neil) for advice on the above plus solar heating/hot water, photovoltaic, insulation using environmental friendly products and advice about tax breaks and grants for these products.