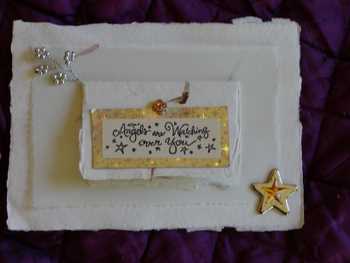 My name is Cindy Guilbert.
I was born in Guernsey in the Channel Island.
My husband Marcel and I moved to France in 2001, to the beautiful Catalan village of St Laurent de Cerdans in the Vallespir Valley, famous for its espadrilles and Toiles du Soleil cotton, both of which are still produced here today.
The locals have been very easy to get along with and we have been very lucky and seem to have the loveliest Catalan neighbours we could wish for.
Having worked in the finance industry from the time I left school until we left the Island, I had to find a new career as my french is not up to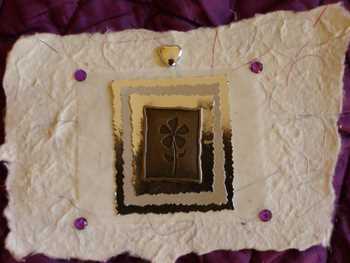 scratch to continue working in offices …….. hooray!!
So I have turned to my great passion, arts and crafts and that's fine by me!
I have a range of handmade cards gifts and jewellery and am happy to consider commissions for birthday, christening, wedding invitations etc.
I am also in the process of producing a handwritten and hand illustrated book of Recipes and Remedies of common herbs which can easily be found in the garden, hedgerows and pistes.
It includes unusual recipes such as Lavender Ice Cream and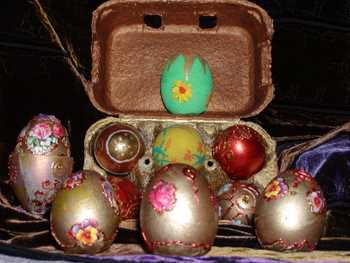 gives an overview of folklore and traditions from across the centuries and the world.
My next project is to gather as many traditions, folklore, faery tales, recipes, remedies, poems etc of Catalan traditions so if any of you out there know of any of the above, I would be delighted to hear from you.
Since our first year here, I have been making Christmas crackers (not something the Calatans are familiar with) but I did notice this year that more non British have been purchasing them although I do have regular British customers and am always looking for more.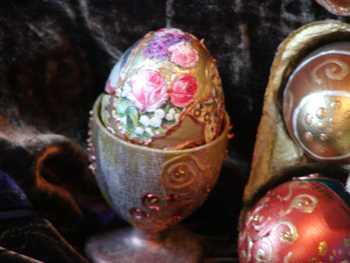 I handmake most of the components except for the gifts.
I am happy to make them to exclusive designs and the price can be negotiated according to the value of the gifts.
I love to mix and match cultural traditions and enjoy incorporating them into the festivals and holidays we have grown up with.
One example is the « carcasonne » which is a mexican tradition for May Day. I hollow out chickens eggs and fill them with a crystal and dried lavender and rose petals and then seal them up and decorate them.
I use them for Easter, Weddings, Christenings etc as well as May day. The tradition is to break them over the head of a loved one and this sprinkles them with love, luck and happiness for the coming year. However, some people prefer to just keep them whole as lucky charms.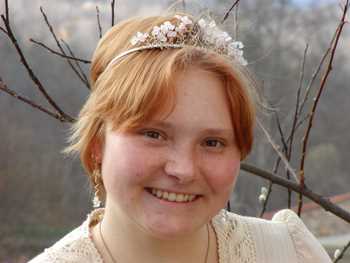 Here is a photo of Jade who agreed to model my tiara and earrings which I make from small crystals such as rose quartz, amethyst, quartz, lapis lazuli et.
Again these can be made to specific requirements for weddings, communions, etc.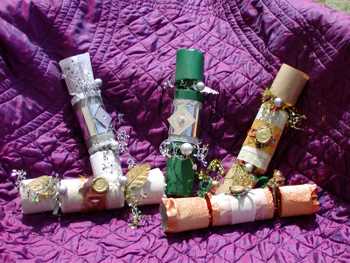 I make all the items myself with technical advice and assistance from my practical engineer husband although his interests lie more in the fields of motorbikes, electronics and renewable energy resources.
Since moving here he has gained a Technicians Certificate in Solar Electrical Installation while assisting on solar courses run by Frank Jackson of Green Dragon Energy Centre in Wales.
In the past six years we have met a diverse group of talented people, luthiers, Artists, muscians, potters, sculptors and a wide variety of craftspeople all producing beautiful items.
One of our friends is in the process of setting up Spiroleina production while another is working on producing woodchip by local forest management enabling many local villagers to receive free heating.
Yet another hosts spiritual healing Seminars for Divine Mother Devi.
We are all here looking for enjoyable ways to finance our dream of living here permanently.
Although it has been far from plain sailing with many moments of asking ourselves « what have are we doing here?! », and our French being far from fluent we wouldn't change it for the world!
Thank Goodness for patient locals and good friends!
Should you have any questions or if you are interested in purchasing any of my range of products, I can be contacted by email
marcel.guilbert@orange.fr
Telephone: 0468 880277