Fêtes de la St Côme et St Damien, Argelès sur Mer
---
20th September 2019

-

22nd September 2019
Event Navigation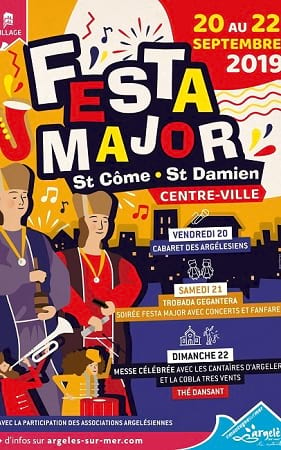 Fêtes de la St Côme et St Damien
Every year, towards the end of September, Argelès-sur-Mer pays homage to its patron saints, Saint Côme and Saint Damien, twins and early Christian martyrs, who healed the sick for free.
According to legend, Argelès was struck by plague in the 17th century, an epidemic which disappeared on 27th September 1652 – the feast of the patron saints – and on which day the population made a vow to carry out a solemn procession to honour them every year.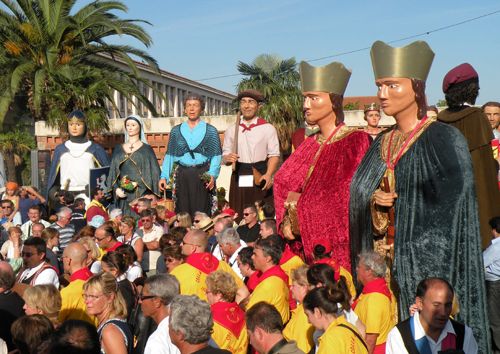 Covering a variety of activities, the festival ends in a long weekend of different events and entertainment, Sardanes, castellers, and bals, crashing to a grand finale parade through the streets. More than 50 gegants i capgrossos (giants & big head) from across North and South Catalonia come together for a mega street party.
GIANTS
'Gégants' are enormous figures, sometimes 14 or 15 ft tall, with painted papier-maché heads and arms. Dressed in traditional clothing, they are built on a frame with a person inside, controlling the movements as the giant dances and sways.
Most towns have their own giants. They usually appear in couples, often as king and queen, or some other important person from the town's history. They go out during the patron saint holiday of the town (Festa Major) or on special days, and dance in the streets with "big-heads" or "cap-grossos", smaller figures, with oversized heads, who parody local characters.
These big headed fellows will often carry a whip or pig bladder, to frighten the children!
---
Programme
FRIDAY 20TH
Cabaret des Argelésiens, 9pm
Argelès residents perfrom a show full of humour, song and dance at Espace Jean Carrère
SATURDAY 21ST
Remise des clés, 11am
The maire hands over the keys to the town to the Gégants
Trobada Gegantera, from 6.30pm
Meeting of the giants and Caps grossos (grosses têtes) from all over Catalogne. More than 50 Gegants will dance and entertain in front of the Hôtel de Ville, before parading through the streets
Présentation des colles, 7.30pm
The different participating groups (colles) will be introduced in the place Gambetta
Grand bal, 9.30pm
Dance the night away with the gégants in place Gambetta
SUNDAY 22ND
Mass, 11am
Traditional service followed by Catalan singing and Sardanes at Nôtre Dame del Prat
Thé dansant, 3pm
The tradition of afternoon tea and dancing in the village