Sunday 12th October 2014 – Casteil
Chestnut Festival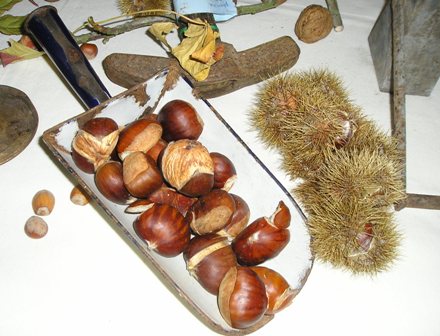 Chestnut tasting
Entertainment for children
Local product market
Vide grenier
Craft fair
Live music. …. and a ready translated description from the casteil website which says it all in the cutest way…..
(Watch out for the bandaged folk – they could be dangerous!!)
This Sunday October 14th, a large market will gather in our village of Piedmont, a great number of producers of the Catalan soil, merchants of traditional products and even an enormous vacuum attic open to the private individuals.
The market of producers one counts already more than one about fifty registered exhibitors. Impossible to circumvent at the beginning of season of sweet chestnuts, come to oxygenate itself this weekend with Casteil, among the coloured foliations, with the foot of the solid mass of Canigou.
Animation will be permanent 9 with 18h, you will meet bandaged and folk groups, and more than 400 kilos of sweet chestnuts roasted await you. You will find a whole pallet of products of the soil, more succulent mets of gastronomy, with the traditional objet d'art.
The flanor will be able to walk to his liking in this sympathetic nerve village, to visit prestigious Abbaye of St-Martin of Canigou or côtoyer the deer and other boarders of the animalist park. The children will not be forgotten, horse-gears and inflatable structures will be at their disposal. That will move this weekend in Conflent. A good pretext to leave this day your armchair there.
The organizers still envisage this year a figure record of visitors. There will be for all the tastes. A date to be retained for a sympathetic nerve left in family. We highly advise you to reserve your places in the various restaurants of the village or the neighbourhoods.
Small history, the festival of sweet chestnut in figures, before 2005. Organized for the first time in 2001, 5 years, the festival of sweet chestnut became an event impossible to circumvent of animation in this canton of Piedmont. Very appreciated of a public of any age, this demonstration gathers the in love ones with gastronomy, within the framework enchanter of the solid mass of Canigou.
Information: Town hall of Casteil: 04 68 05 67 63