2011
Gastronomic tour of the P-O

Taking a lead from fellow restaurant reviewer, John Fairclough, John Frazer-Robinson selects a few of his local favourites….

St Cyprien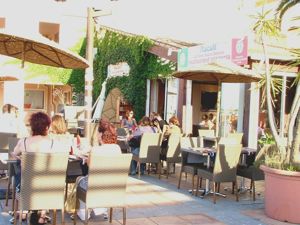 The Ascoli
The Ascoli at St Cyprien is well worth a visit whether you like pasta or not.
This great Italian resto is to be found at the 'on the marina-side' at Les Capellans Commercial Village.
The menu offers a fairly typical range of pizza and pasta dishes, and some interesting veal and other meat options and a 'menu bambino' at €6.50.
You will be sure to leave with a smile on your face and licking your lips if you try Girasolis aux Crabes – round ravioli stuffed with crab and served with a yummy sauce including 'Queenie' size scallops or Mari Monti – scallops and king prawns in a superbly creamy, lightly tomato'ed sauce.
Céret

Restaurant del Bisbe
In the evening you have two choices of menu or an a la carte. The menus are at 28 or 32 Euros. and I remember thinking that the €28 seemed to offer better value, better choice and I couldn't see why anyone would want to shell out the extra few bucks for the more expensive one!
The kitchen – which is open for all to see – was immaculate and very well organised. The service was prompt and very courteous and well informed without being obsequious. With coffees all round and copious pichets in the end it came to about €35 a head which I thought fair enough.
St André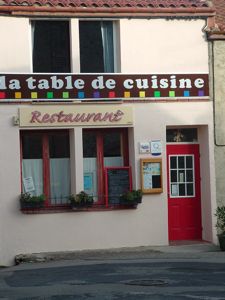 La Table de Cuisine
We are graced with a few Michelin starred establishments in the region and I have been lucky enough to eat at quite a few of them – but when it comes to looking at the combination of price and quality way ahead of my list is this charming little restaurant in St André. This resto is small, all the food is prepared to order, and favours local producers and suppliers. You may have to be a little patient before your food arrives but it is well worth the wait. In view of the size I'd recommend a reservation phone call. But be assured this is one not to miss!
CHECK OUT FORUM OPINIONS
Argèles Village
Flowers
First time I've had Mahi Mahi since being in Hawaii. Excellent value if you choose well. Great salads. House wine very drinkable at €4 a half litre. Gaffer speaks English better than me!!
CHECK OUT FORUM OPINIONS
Castelnou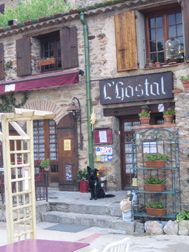 L'Hostal A Restaurant full of ambience even though, in February on an overcast and chilly day, we were the only lunch-time Customers. Three of us ate fabulously, two huge entrecôte steaks and a magret de canard were devoured sandwiched by fabulous starters and two superb puds. A range of good local wines are offered. A bill for about €140 was duly settled and generally considered great value. Not an everyday experience but terrific value nonetheless.
Saint Laurent de Cerdans
Falgos – Le Domaine de Falgos near Saint Laurent de Cerdans. Here's the deal – a great day out spoiling yourself in the fitness centre and spa with three course lunch including house wine and coffee for €35 a head (varies slightly by season). It would be difficult to find a more beautiful setting. Not the most accessible location but that's a small point amply repaid by the magnificence of the views and the benefits of swimming in a near empty pool and the hot tubs and sauna available for afters!
SPAIN

Lastly since we live in Catalonia, there's no reason why we can't pop across the allegedly now non-existent border!
Fogons el Canadal – La Jonquera The menus are only at lunch time – it's exclusively a la carte in the evening. We chose the 28 Euro menu and ate very, very well indeed. The starters were all preceded by complimentary and humungous amount of tapas on which we grazed gratefully. In summary, remarkable value and as Winner would say 'historic'. But it is so hard to find I wonder how it survives without any passing trade. It's left off the roundabout before exit 2 of the motorway as you head south having passed through the town.
Restaurant Mas Renart on the road between Espolla and Mollet de Perlada. Just to get your mouth watering, to get to your table you have to walk past the two buffet elements of the set menus, the starters and desserts. There is a good size a la carte and four set menus. The prices run from €19 to €29 but we all settled on the Family menu at €24. A number of things are striking about this place. The welcome, for example, was warm and friendly and we heard the senior staff speaking French, Spanish, Flemish (so presumably Dutch too!), Catalan and perfectly accent-less English
The service was extremely pleasant, efficient and timely without ever being intrusive. All in all, a definite for a return visit – great value for money, high quality and a bit of a find.