If you go down to the woods today…
APRIL 2006
Four communes in the Pyrenees are to receive 'delivery' of five Slovenian brown bears, four females and a male, who will be introduced into the mountains in early July, by the Ministry of the Environment. The first arrived at Arbas yesterday, 25th April, amidst demonstrations – cries, bells and bangers – destined to frighten the new arrival.
The intended introduction of the bears in the communes of Arbas, Burgalays, and Luchon in the Haute-Garonne, and Bagnère de Bigorre in the Hautes-Pyrénées has provoked an angry reaction from local farmers.
Minister for the Environment, Nelly Olin says that the bears are fearful and timid and certainly not dangerous. Despite their 200 to 300kg and size of up to two metres, the brown bear is a quiet and timid animal when faced with man, and a lazy eater where chasing his dinner is involved, although he has been known to make an effort where sheep and chickens are concerned!
Bear necessities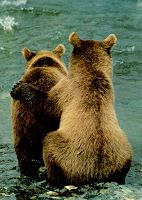 Wendy and Wandy, two baby bears born on 18th January 2006 came out of their lair for the first time in April to take their first steps 'on the outside'! The Three Bears (including Mummy Bear, Moustouze) can be seen at the Casteil animal park along with Hamadryas, a new born monkey and other animals.
Daddy Bear, Willy, was in quarantine when they took their first tottering steps in the outside world however, as apparently there was a risk that he would attack and kill his new born baby bears
AUGUST 2006
The fifth and final bear to be brought into the region was introduced into the woods at Arbas (Haute-Garonne) yesterday, amidst continuing controversy. Sarousse, female bear aged 7 years old and weighing 112kg, is the last bear to be set free in the wilds, according to the plans of the Ministry of the Environment for the "préservation et conservation de l'ours brun dans les Pyrénées françaises 2006 – 2009"