Les Balades en Estives
Update
We are all lying by a lake in a valley high above the tiny Conflent village of Nohedes, relaxing after the walk up through tall beech trees and pine forests. Distant cowbells are all that can be heard. A shrill whistle pierces the clear mountain air.. "Sel!" (salt!) cries the mayor of Nohedes… and from all around the hills his cows come…

We watch them approach, drink from the lake then surround Vincent the farmer/mayor and lick the salt from his hand, from the bucket, from the ground.
Next we will be fed an excellent grillade, local fruit juice and good roussillon wine will help it down.
It is one of the Balades en estives organised by the Association: Rosee des Pyrenees. Wonderful walks in the high mountains to meet the cattle in their summer grazing grounds and to talk to the men and women who raise them.
Ring 046805 2580 or 06 2441 0118 to book yours.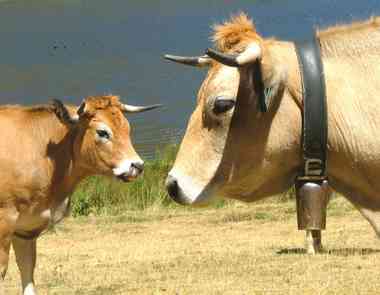 An opportunity to spend a memorable day in the high mountain pastures, organised by the farmer/producers of La Rosée des Pyrenées.
For the last fifteen years these éleveurs have been farming veal by traditional methods.
The calves are fed exclusively on their mother's milk and the grass and herbs of the high Pyrenean meadows. From June to September the farmers lead a series of day long balades up to their summer grazing grounds. There you will meet the cattle they breed to produce their "pink Pyrenean" veal.
The day starts at 9am at one of six mountain villages. The air is clear and clean. We are given a welcome coffee, a slice of spiced bread and money is collected. 30 euros per person.
Half price for under 12s, under 6s go free. Some people put on sensible walking boots; all carry water and suntan cream. The farmer, after a short introductory talk, leads the group off and up. For the keen walkers an extra 10 euros can turn your "balade" into a "randonnée." (min. 8 people).
Jordi Mach, cowman extraordinaire and official mountain guide, will take a longer but speedier route. For the rest, the pace is gentle, the scenery magnificent and the farmer has a wealth of local stories to tell. The talk is of cattle-raising and farming methods. He shares his passion for and knowledge of the spectacular countryside in which he works. The day heats up; water bottles are passed around, stragglers waited for.
After two or three hour's walking bells are heard and out of the magnificent landscape the gentle cattle emerge. They are of rustic race, "Aubracs" and "Gasconnes". Caramel coloured or grey, little calves, doe-like mothers and, occasionally, a bull. Here you see no mad cows, these cattle are raised in liberty, perfectly at peace in their surroundings. The farmer feeds them salt. They lick it off flat stones with long black tongues, occasionally sticking their tongues up their nostrils. We stand and watch them.
The super-fit group joins us.
In the distance, beside a lake or a babbling mountain stream, a drift of wood smoke hangs on the air. The other members of the Rosée des Pyrenées team have arrived in a 4×4, set up trestle tables groaning with food, and lit fires for the grillade. They pour glasses of Roussillon wine, or local fruit juice. We are shown how make "Pa amb tomatec" first grating raw garlic then rich red tomatoes on toast, followed by a trickled "net" of olive oil. The result is topped with slabs of local charcuterie. While we eat it, cutlets, escalopes and sausages of Rosée des Pyrenées are grilling.
The feast is delicious, the atmosphere relaxed and friendly. Towering mountain peaks soar above
us as we laze in meadows of mountain flowers, eating, drinking and watching the distant herd. Large trays of local peaches follow large trays of local cheeses. There is hardly room for coffee.
After lunch, the farmers describe their work and answer questions. We learn about other animals raised in the Pyrennées Orientales: "Tirabuixó" pigs, "El Xaï" Catalan lamb, free range chicken and guinea fowl, organic beef and veal. Along with veal of La Rosée des Pyrenées they are all sold under the banner of Saveurs du Pays Catalans, fortnightly orders delivered to meeting points all over the P O. The meat is packed ready to cook, freeze or store in the fridge. Check the website for details and ring in your order.
Energy is gathered for the walk back down, led, once again, by the farmer. By 6pm we are back at the cars, etched on our minds an unforgettable and stimulating day spent in the breathtaking scenery of Parc Naturel Regional des Pyrenées Catalanes and in the company of the men and women who work there.
Ring 0468052580 or 0468966183 to book your "Balade." Special rates for groups 12 plus, remember to ask for the speedy version if interested.
www.roseedespyrenees.com
Booking 04 6805 2580. Don't forget to say where you heard of them!