All patients in France should be offered the possibility of a tele-consultation, especially those with mobility problems.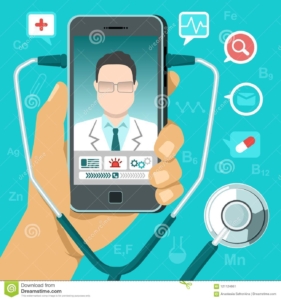 This applies to anyone who is part of the French health system, regardless of his or her place of residence, and to any doctor, whatever his or her specialty. All doctors should be equipped to offer medical examination by video-conference. Many are not despite Covid which increased the demande
The cost will be the same as a traditional face-to-face consultation, 25 € for GPs at present.
How does the tele-consultation work?
The remote consultation is performed between a doctor and a patient (who may be assisted by another health professional). It unfolds like any consultation, starting from a request for an appointment.
It involves :
an interview with the patient
the examination of documents transmitted previously by the patient or representative
possibly a clinical examination (if accompanied by a health professional or if the available equipment allows it)
if necessary, a prescription tele-transmitted by secure means
The report of the consultation is recorded in the patient file of the tele-consulting physician and a copy is sent to the attending physician and to the physician who requested the procedure.
Because your carte vitale can not be processed remotely, the doctor will send you a feuille de soins, which you will need to complete and sign before sending to Assurance Maladie, or your relevant health administrator.
So far, GPs and doctors have not necessarily adapt well or willingly to this new initiative, brought in in 2018!