Feux de la Saint Jean
(on or around 23rd June)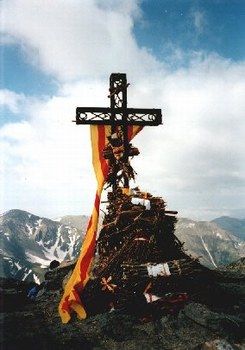 In the fifth century the Church placed the longest day of the year under the sign of Saint John the Baptist.
Despite it's beginnings in Christianity, that date is linked with ancient practices and white magic
For example, the curative powers of local herbs such as rosemary, thyme and verbena are supposed to be 100 times stronger on the eve of Saint Jean.
Verbena in particular, and carlina (a type of thistle shaped like the sun) apparently act as an aphrodisiac, and if nailed to the door, protect from evil spirits and prevent 'mauvaises fées' (bad fairies) entering the house.
Animals were washed on that night to protect them from harm for the rest of the year, dew was gathered at dawn to cure illness, fires were lit to burn broken and worn out household items and to signal from village to mas to ermitage,
Celebrations took place everywhere.
During the Second World War, the occupation and curfew put a temporary end to these nighttime traditions.
The first midsummer fire on Canigou in modern times was lit on 23 June 1955 by Francois Poujade and fellow USAP rugby fanatics – both to celebrate his birthday and Perpignan's victory over FC Lourdes in the Yves du Manoir Challenge cup. Between 1957 and 1963, a local group of young people devoted to good causes, enlarged the event, extending the midnight fires to 20 further hill tops and watch towers. French Catalonia was truly ablaze!
Every year, this ceremony of love and fraternity is repeated. Representing a community spanning all cultures, the light embraces all those who are lucky enough to find themselves part of the Catalan festivities. At nightfall, the flame of Saint Jean is lit at the Canigou summit from a lamp which is kept burning from one year to the next, a bit like the Olympic flame. As neighbouring fires are lit across the Roussillon plains, the flamme de Saint Jean is brought down the mountain, passing through surrounding towns and villages where it is met with music and celebrations. It finally arrives in Perpignan, to the Castillet, which is brought to life with visual projections and a spectacular firework display.
Find out more about the traditions and history in Basil Howitt's article
Because of Covid 19, this year's festival has been reduced to a minimum but you can still celebrate by welcoming the flame to Argelès sur Mer. Find out more here.