Me and my girls – Alpacas in the P-O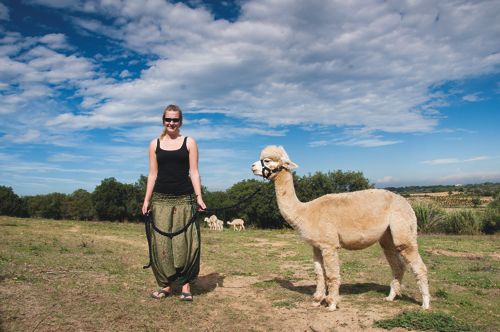 Celine Peniston-Bird and her husband, Simon, moved from Surrey to the P-O, delighted to have found sun, sea and mountains so perfectly packaged together in one beautiful region. Their aim to find a home with enough land to raise sheep, pigs and chickens was a challenge, but they finally settled in Banyuls-dels-Aspres, near Le Boulou.
Their first purchase of Cameroon sheep came from a friend in the Hauts de Céret, along with some precious breeding advice. This rare breed of sheep, also known as Dwarf Black Belly, originates from West Africa. Hardy and disease resistant, Cameroon sheep are hairy rather than woolly, an ideal breed to own in the P-O, as they do not require shearing and cope better with hotter climates than wooly sheep.
After the birth of their second son in 2013, it was time to increase their growing farmyard family too. Celine began to research other animals that could live happily in our P-O climate – and a few months later alpacas arrived in Banyuls-dels-Aspres!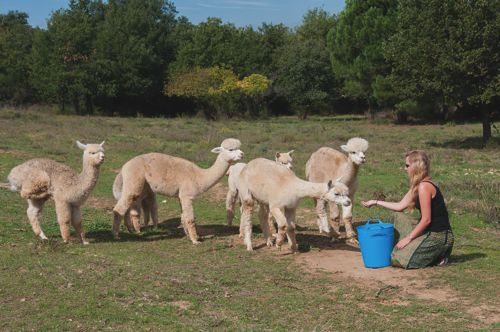 These hardy, agile animals with dense, high quality fleece were bred in the UK by a reputable breeder, and transported to their new home in the P-O. Celine now has 'her girls' – 6 pedigree alpacas, 3 pregnant adult females with their 3 female cria (baby alpacas).
The 'girls' were chosen for their light colouring (five are white and one is light fawn) as they deal better with heat and their wool can be dyed.
The new 'cria' are due late spring/early summer of next year and they are hoping for some superb white babies. UK Daddy is an undefeated supreme champion male so their bloodline is assured.
Celine has not yet found any other alpacas in the PO, so this could be an exciting first in the department.
Some alpaca facts
☛ Alpacas originated in Peru, where their fleece was cherished by members of the Inca civilization. They are hardy, healthy and easy to care for, and live to an average of 20 years old.
☛ There are two different alpacas types, the suri and the huacaya. The suri has fleece (also known as fiber) that grows quite long and forms silky, pencil-like locks. The huacaya has a shorter, dense, crimpy fleece, giving it a very woolly appearance.
☛ They produce some of the silkiest fleece known to man, in 22 shades, ranging from white through to various shades of brown and grey and finally black.
☛ Although mainly quiet animals, they communicate with each other through humming.
☛ They are gentle and curious but do have an occasional 'spit-off' amongst themselves to show their displeasure. First, they will air spit, if still disgruntled they will spit saliva, and finally they may regurgitate their stomach contents!
Alpacas love water and will stand happily under a sprinkler in summer, or use a water trough as a foot spa!
So what does the future hold for Celine and her girls?
Well, fortunately for them, alpacas are not part of the food chain in France, so there'll be no 'alpaca à l'orange' on the Peniston-Bird dinner table. Some alpaca breeders do make a living out of breeding and selling the animals but for most it's more of a hobby, as large scale breeding requires large scale land, capital and time. Celine will also sell their fleeces, which are perfect for spinning enthusiasts who wish to create their own wool. And of course, if you like the idea of having a cute, low maintenance exotic lawnmower, contact Celine to find out more.