Let's Walk: Winter in the P.O.
by Hilda Cochrane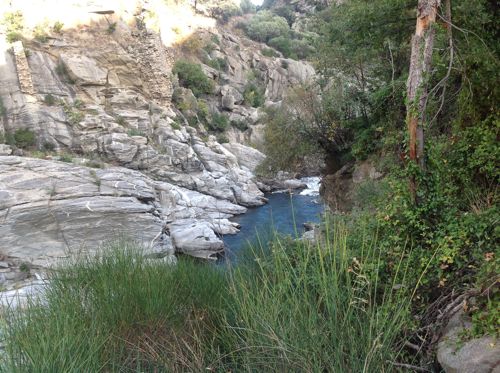 The cold season is upon us. All summer, we have managed to convince ourselves that winter and its undesirable indoor tasks, such as house repairs, are light years away!
Summer and particularly July and August, is for basking on the patio, splashing about in a pool or the sea or taking interesting excursions. In between one can fit in other necessities such as gardening activities.Perhaps grumbling about how often the lawn needs mowing
Alas, and without warning, winter arrives and a sense of loss descends. The burden of those half-hearted promises begin to weigh heavy. In the blink of an eye, we are unearthing our winter woollies, wearing heavy coats and being reminded of Christmas. What to do to lighten the spirits?
For the young and experienced there is the keenly anticipated skiing season. These folk can't wait for those cold, snowy days. Font Romeu and Les Angles and many other resorts are about to accommodate as many visitors and tourists as the beach areas did in summer.
So, how do the non-skiers console themselves, those of a certain age and for whom the art of sliding about on snow is an unknown and seemingly dangerous activity? Other options are required and it is the mountains themselves which give many of us the solution. Fans who enjoy clambering up escarpments, negotiating rocky outcrops and carefully treading narrow shale-strewn goat tracks, can come into their own.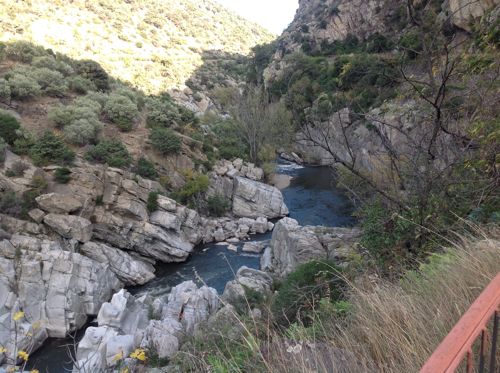 Gone are those mad tourists of the sunshine season who, red-faced in the heat of the midday sun, took to our hills and escarpments. Once autumn arrives, we lace up our boots and grab our walking-sticks; we look to the chill hills. It is our time.
What joy to put our bodies through torment, to ignore the labouring of our lungs when in one or two hours we can be standing on top of the world. In the Pyrénées Orientales there are wonderful walks. Nearly every village has paths which lead up, up and away, allowing us to clamber in the lower hills and escarpments. For variety, a short car journey leads to new adventures.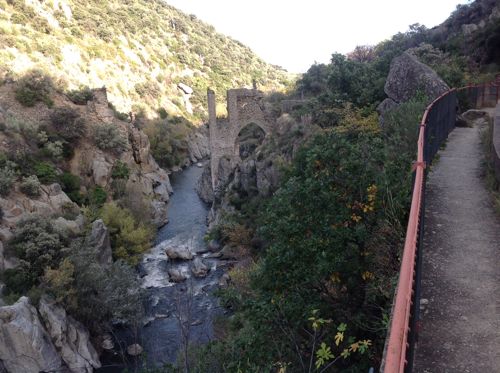 Between Perpignan and Prades are walks which meander through forests and along rivers.
On high one is awestruck by the Panoramic views spread below; valleys and plains with nestling villages in the foothills. Towering mountains rise behind them. Fillol looks down on Fort Liberia which in turn looks down on Villefranche.
St Michel des Llottes, between Bouletérnère and Thuir is high enough to show the sea beyond Perpignan. Arboussals-Marçeval situated above the Vinça Dam does the same.
On the route to Mont Louis, a turning at Olette takes one to the small mountain village of 'Nier'. To reach it, we have followed the Têt, a mix of rushing water, mini-waterfalls and calm pools.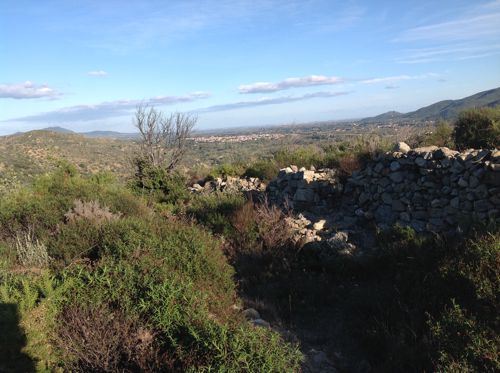 There are times, of course, when the weather is too risky. For instance, it would not be pleasurable to be climbing up through a snow-storm nor freezing rain, nor gales. At such times, perhaps, one can face the house, don the overalls and the marigold gloves and tackle those little hell-holes of grime, dust and dirt lurking in forgotten corners and crevices. Much more bearable when there is a chance of a walk tomorrow!