As you head up the N116 towards the high Pyrenees after Prades, the Têt Valley narrows dramatically where it meets the valley of the Cady, and the perfectly preserved fortified medieval town of Villefranche de Conflent whisks you back thousands of years in time.
At the confluence of the rivers Têt, Cady and Rotja, Villefranche was built and fortified at the end of the 11th century by Count Guillaume Raymond de Cerdagne, to protect the valleys from invasion. It was later reinforced by Vauban in the 17th century.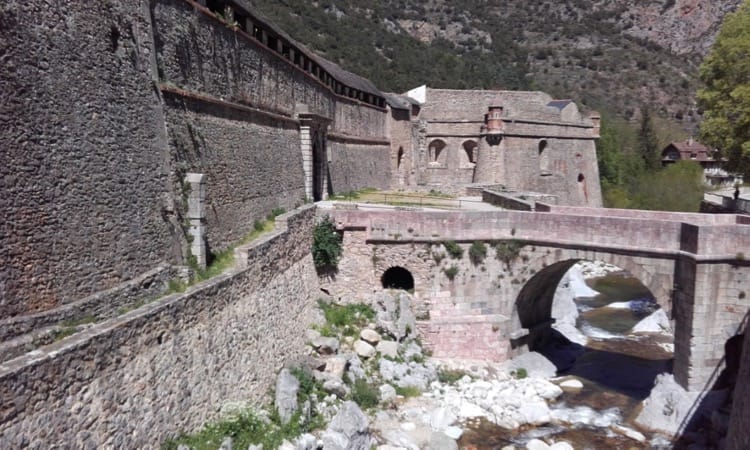 Known also as Villa Franca, town of free trade, special tax privileges were offered to attract skilled and assorted trades people. Settlers could live tax-free for three years, after which they could pay as little or as much tax as they wanted, whenever they chose. All right for some!
Today, Villefranche is a World Heritage Site, and deservedly classified among the most beautiful villages of France.
The Town
Enter the town by one of two ancient gates, the Porte d'Espagne or the Porte de France. Originally built into the valley bottom, space was limited in Villefranche, so the houses are tall and narrow and there are just two main pedestrian-only streets, Saint Jacques et Saint Jean. An enchanting glow comes from the famous pink-coloured marble, mined in the area and used in much of the town's construction.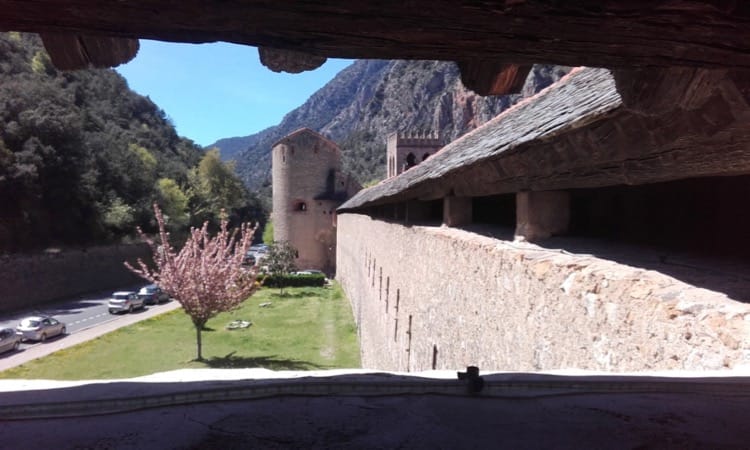 Take Rue St Jacques to visit the 17th century Romanesque church of Saint-Jacques, with its 12th-century carved pink marble entrance, or choose Rue St. Jean for the many art galleries, souvenir shops and local craft shops. Several sell handcrafted witch dolls, 'poupées sorcières', as befits the legends of magic and witchcraft surrounding this region, steeped in history and superstition.
But never fear: although you may well be bewitched by the town itself, these dolls are supposed to bring good luck and protection, so you can put the pins away!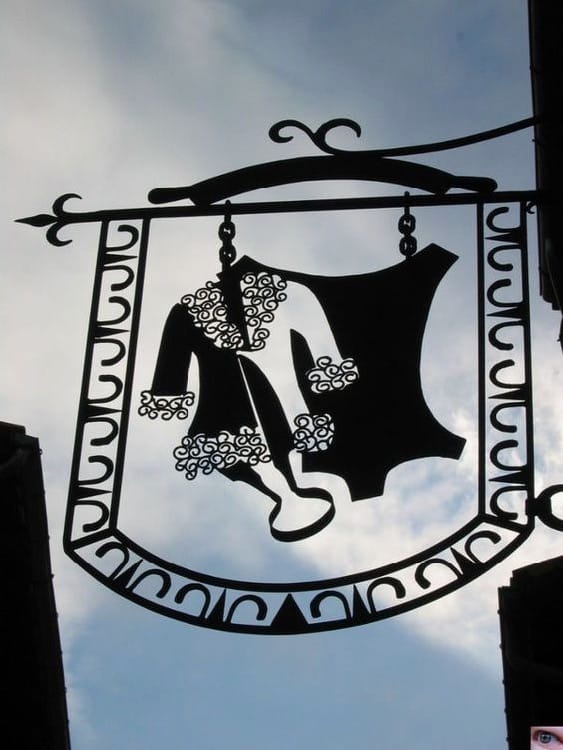 As you wander the streets, look up at the fascinating shop signs, forged from local iron.
As the warmer weather arrives, grab a coffee or a cold beer and settle down in one of the squares at either end of the town to take in the magical atmosphere…and if you're around at Easter weekend, look out for the annual Fête des Géants, and the 'Goig dels ous de xocolat. Giants parade through the streets accompanied by musicians playing Catalan instruments (gralles, flaviol and tambourin) and asking for chocolate eggs from the inhabitants in exchange for their music. What a treat.
The ramparts
First built in the Middle Ages with a tunnel running around the walls, Villefranche-de-Conflent city walls were transformed by Vauban during the 17th century, when he added another level with a traditional slate roof. Walk round alone, or with an audio guide. It's well worth the small fee.
Fort Liberia
If you're interested in history and military architecture, you won't want to miss Fort Liberia, perched above the town, and dominated by Canigou.
One way up is via 'Les milles marches'. This underground staircase was built in the reign of Napoleon III in the nineteenth Century. Twenty-two men fell to their deaths during its construction. Steep, narrow and dimly lit, it is cooler on a hot day but might not be the best option for those with claustrophobia or bad knees!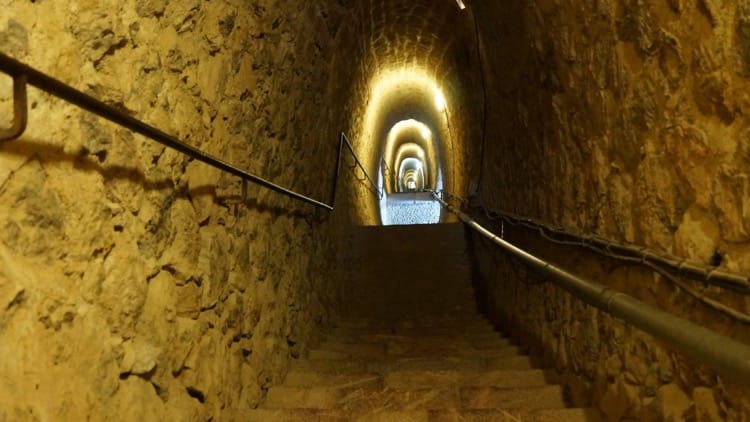 There are 1279 steps – including those in the fort itself so give yourself at least 20 minutes for this climb! Or perhaps come back down this way, bringing you out where the little Yellow train passes the fortified walls of Villefranche on the start of its climb to Latour de Carol.
Alternatively, you can walk the steep open pathway, with its stunning views over mountain and valley, or you can take a shuttlebus from inside the town walls.
Inside, you can buy tickets or a guide, available in English, and drinks, snacks and loos are available.
Built in the same impenetrable pink marble as much of the town, with defensive interior walls of soft brick to absorb cannon balls, and internal corridors within massively thick outer walls from which to fire on attackers, the defenders of Fort Liberia were well equipped to repel invaders from both sides of the border.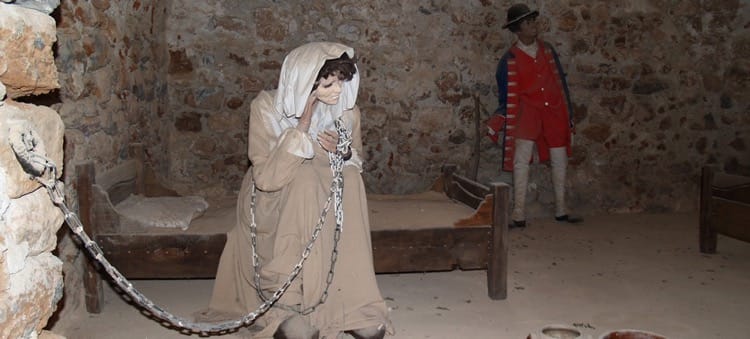 There is plenty to see and explore, including La Prison de Dames with its horrible history of female prisoners. The Marquise de Brinvilliers was found guilty of poisoning her father and brothers, imprisoned in the fort and eventually burnt at the stake. Her lady-in-waiting, Anne Guesdon, and another alleged lady poisoner, La Chapelain were imprisoned for the remaining 36 years and 43 years of their lives respectively, chained to the wall of their cell. Wax models of them sit there still.
Going Commando
Fort Liberia is still occupied by military personnel. The National Commando Training Centre trains special forces in this area, and they can be regularly seen on maneuvers in full combat dress, so don't panic if you're approached by masked men in full camouflage when out walking in the Conflent!
Getting there:
By car: N116
Bus: 2 Euro Return from Perpignan Bus Station located next to the new side of Train Station. Buy tickets on the bus.
Train: 2 Euros Return from 'old side' Perpignan Train Station. Buy tickets from the red machines located in the hall.