WITH GILL STOREY
---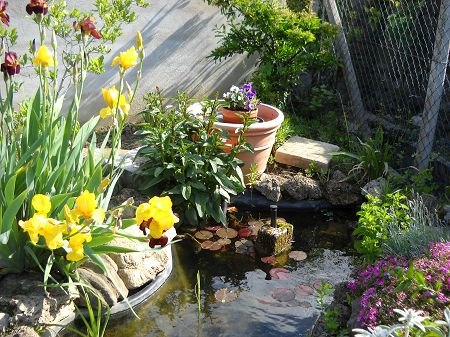 In June you should be planting seeds for the coming year in both the potager and the flower garden. Some can go in little pots and some can go direct into the ground. You should also be tidying up after spring, pruning the spring flowering bushes, getting rid of dead leaves and restoring the lawn to good heart. Pots can go out safely now, although one pessimist near us pointed out that he had known it freeze and snow in June.
The main tasks in the garden are:
Flower Garden

Mow the lawn regularly, but less frequently in drought. Produce lots of grass clippings for mulching and underneath perennials and shrubs. Use them also in the bottom of holes for planting. Weed and feed with a proprietary mixture if you have too many non-grass plants in the lawn.


Prune early-flowering shrubs above the nodes after the flowers have passed their best. Take out some of the old wood. Their cuttings do well.


Make softwood cuttings when working round the garden. Make a clean cut below a node and remove most of the leaves before plunging them in a suitable compost (terreau pour semis et bouturages). Hormone rooting powder helps.


Tidy up dead bulb foliage. Do not knot the stalks, but take them away.


Fill your baskets and pots, using water-retaining crystals in the compost if they are not already in the mixture.


Sow hardy annuals on the spot – the packets of mixed flowers in single colours are very useful for producing drifts of colours which tone in with your existing planting.


. Plant out the flowers which you have grown from seed as soon as the seedlings seem well established.


. Cut back spring flowering flowers rather than let them run to seed. Dead head flowers as they appear on roses, lupins, delphiniums, pansies, petunias, pelargoniums.


Tidy up the pond, cutting back or dividing established plants. Take out any weed or scum and add fresh aerating plants. If you have a filter switch it on before the pondweed takes over.


. Clean and freshen up your garden furniture and cushions. AND USE THEM
Vegetable Garden

Mulch soft fruit such as raspberries and currants (grass clippings are good) to retain moisture.


. Put straw around strawberry plants if they are not planted through black plastic and use the runners to start new plants.


. Remove raspberry suckers to push growth into the mature fruiting plants.


Thin peaches and nectarines. Wait for the June drop (when they thin themselves naturally) for apples and plums. If you have June pears (various names like peyrottes or poires de Saint Jean) the fruits will be well developed by now and should be ready to pick by St John's Eve (23 June) which is a big day for the Catalans. They are delicious.


. Plant out celeriac, celery, sweet peppers and cucumbers. My best guide for this is when the plants appear in the Saturday markets, as there are such variations in the PO.


. Sow French beans, courgettes, squash and sweet corn in open beds.


. Plant your culinary herb seeds in a convenient corner, or a large pot.


. Continue to sow salad plants and harvest them as they mature


Your early potatoes are ready when the rows are flowering.


. Pinch out side shoots on your tomato plants. Use liquid fertiliser to help the crop.
Your garden should give you the satisfaction of colour and beauty and as well contribute towards your table during the summer months. Enjoy it. I was told: "Make time – smelling the daisies is just as important as cultivating them!"
END NOTE

Last year we had one errant seedling tomato in the flower bed. It produced cherry tomatoes right up to the end of November and several fruits landed in the bed nearby. This year, I have found 12 excellent seedlings, which are now potted up, and intend to pass them on to other gardeners. I hope they breed true.
© Gill Storey