MARRONS GLACES
 First created during the reign of Louis XIV, these candied glazed chestnuts are eaten around Christmas time in France, a fairly costly luxury as true marrons glacés take several days to cook from start to finish.
Chestnuts are  gluten free, low in calories compared to most other nuts, but rich in minerals and vitamins.  However, these  chestnuts are candied in sugar syrup and glazed, so perhaps not recommended for their dietary contribution!
The first recorded recipe for marrons glacés was written by La Varenne, chef to one of the nobles of Louis XIV's court in Versailles. He went on to publish a recipe book  in the 1660s which included 'the worst recipe for toothpaste ever made' consisting of 'half a pound of finely sifted ground brick, four ounces of similarly treated porcelain and one ounce of coral, moistened with essence of clove and cinnamon'. His recipe for marrons glacés was one of his better ones!!

The following recipe was provided, not by La Varenne, but by  Cindy Guilbert of St Laurent de Cerdans in the Vallespir.

♣ 1 kg chestnuts
♣1 kg sugar
♣650ml water
♣1 vanilla Bean (gousse de vanille)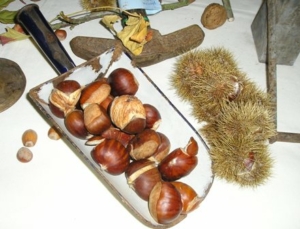 Remove shell and membrane from chestnuts.
Place in large pan, cover chestnuts with water and boil for 8 minutes.
Drain and discard water. Rub with kitchen cloth until skins come off.
Cook sugar, water and vanilla bean over low heat stirring until all sugar dissolves.
Allow to simmer for 5 minutes then add chestnuts.
Bring to boil and cook for 10 minutes.
Remove from heat and discard vanilla bean.
Cover and soak overnight for 12 hours then boil again for 1 minute.
Allow to stand for 24 hours, repeat process until all syrup is absorbed.
Preheat oven to 65 deg centigrade or 150 deg fahrenheit and place chestnuts on greaseproof paper and leave to dry in oven with door ajar for 2 or so hours until firm.
When completely cool, store between greaseproof paper in airtight container et voila.
Bon Profit.