Reviewed by Ted Hiscock 2011
LE DOUBLE Y, PERPIGNAN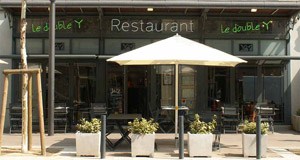 The name sounds so much more romantic in French than in English.
I was naïve enough to feel the need to ask "Why?" "YY stands for Yin-Yang", I was politely told in French without a hint of patronising attitude by the warm-hearted Camille.
Kate and I have now eaten a few times in this friendly and atmospheric restaurant in Perpignan's business quarter located behind the imposing Art Deco "Pour les Dames de France" store. It is conveniently only a fifteen minute walk from the railway station, which suits us travelling from Port Vendres for a special lunch.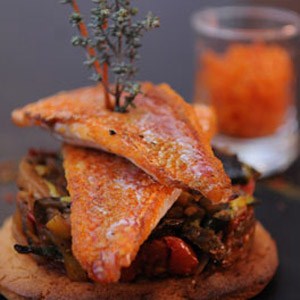 In fact, we have made it an unwritten rule that we shall spend a day in Perpignan during our stay in the region purely to take lunch at Le Double Y.
There is considerable local patronage by local business people and it is impressive how many go there for lunch and are able to eat well and be out in forty minutes.
Everything about this restaurant is right for us; if it is sunny, there is a comfortably presented pavement terrace, which can be a compromise when the local bus lingers at the stop opposite.
Inside, the ambience is relaxingly contemporary with a tasteful bottle display of Roussillon wines precisely placed along one wall in glass cabinets.
Juxtaposed throughout the restaurant are a few pieces of modern sculpture which complement the modern brightly coloured lemon and lime-green chairs and starched table linen.
Apart from the exceptional and creative cuisine which is fondly and artistically presented, the wine list of excellent Roussillon wines is stunning and the marriage of the recommended wine with each dish is planned to perfection.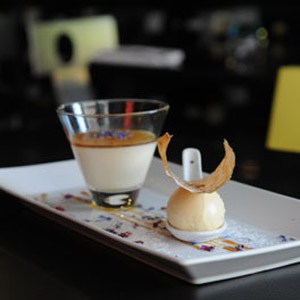 There is always a well-designed Plat du Jour in the region of 10 euros and an indulgent 3 course lunch of entrée, plat du jour and dessert will cost about 20 euros per head.
It is of course possible to go up-market with the 'Menu Affaire du Double Y', which offers mouth-watering creations such as an entrée of 'Médaillon de langouste,
Coleslaw, "mikado" de granny smith' followed by 'Morue juste confite à l'huile d'olive, écrasé de pommes de terre en Bullinade and rounded off with 'Parfait glacé à la passion, coulis "maracuja' fro 30 euros or finally the complete gastronomique experience with the 'Le Menu Confiance', which is a memorable experience at 55 euros per head. The desserts are a tour de force.
It has to be said that the small well-coordinated team of serving staff are efficient, pleasantly attentive and helpful, characteristics that all go to making the meal a special occasion.
Even if one's French is a touch rusty, they make it their business to explain the dish in English and like to practice their own linguistic skills! If ever a restaurant was aptly named this truly represents an understanding of how things work.
Le Double Y; 8 Place Jean Payra, Perpignan, 66000
+33.(0)8.92.68.06.89
www.le-double-y.com
12.00 – 14.30 (except Sunday) & 19.30 – 22.30 (Wednesday – Saturday)