Restaurant reviewer, John Frazer-Robinson, visits this great restaurant in the picturesque village of Castelnou
Not so much just a great restaurant find but a great day out in spectacular surroundings! Read on…
Elaine's brother, Richard, was on a short visit and having basked in sun and lunched outside on our terrace on his first day – a bonus in mid-February, perhaps – the clouds rolled in and the Tramontane accompanied them!
So we arrived quite quickly at his chilly and windy last day. What to do?
We discussed it with him and came to the conclusion that the local list of 'les plus beaux villages de France' might yield a gem – and indeed it did! We arrived at beautiful Castelnou, conveniently, around lunch time. Not much open – but happily L'Hostal was.
A Restaurant full of ambience even though we were the only lunch-time customers. A large bowl of marinated olives and other bits and pieces were given short shrift. Delicious!
Richard and Elaine decided to share la planche 'festin des saveurs'. Served on a wooden block this transpired to be Serrano ham, foie gras with figs and cognac, gingerbread, Manchego and a confit of sweet wine, terrine of pork and house pickles, house red onion and honey from Castelnou marmalade.
A delightful and fulsome serving of assorted 'tapas-style' portions which provided a range of flavours and provoked lots of 'wows' and 'yummy's'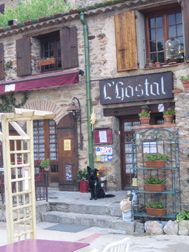 I opted for a half dozen beautiful 'escargots' each of which delivered the anticipated requirement of garlic and fine herb butter for which the warm bread rolls were of course a necessity!!
A great start which at €18 and €6 respectively were good value. Brother and Sister washed down their starters with a glass of champagne each while I started on a half litre of red priced at €11 of which I neglected to note the name but it was local and the only one at that price on the menu (that's a clue!).
Upcoming were two huge entrecôte steaks (€21 each) cooked exactly as required and served with mixed vegetables and what seemed to be three new-style potatoes which had either been roasted or deep-fried and drained of any excess fat.
Elaine had chosen a large and, again, perfectly cooked magret de canard (€18) accompanied by the same vegetables. A second bottle of the red wine accompanied these.
Polishing the mains off leisurely, I found that I was replete but Elaine and Richard decided to go for a dessert. Elaine chose a rhubarb crumble with strawberry compotée (€5).
Richard chose the café gourmand (€7). This was served on a long thin rectangular dish with five saucer-like indentations and comprised a demi-tasse of coffee, a ball of coffee ice cream, a piece of coffee rousqille (a ring-shaped, soft and crumbly pastry covered with a layer of icing sugar) and piece of Touron, a Catalan creation – coffee flavoured and nougat-style. Lastly the fifth indentation contained an After Eight – coffee, of course!
These were declared superb and Richard's choice particularly interesting and different! Coffees were to draw an excellent meal to a close. A bill for about €140 was duly settled and generally considered great value. Not an everyday experience but terrific value nonetheless. But more great things were yet to come….
We wandered round beautiful Castelnou electing – predictably in my case! – for the wine shop at the entrance to the chateau rather than to tour the chateau itself.
Carrying our purchases with us we ambled back to the car enjoying the absolutely stunning views which this semi-castellated joy of a village provides from its' lofty position.
A great lunch and a fabulous day out!!