Saturday 15th March 2014


Le Grenat, Théâtre de l'Archipel, Perpignan
Caligula
Giovanni Maria Pagliardi / Vincent Dumestre et le Poème Harmonique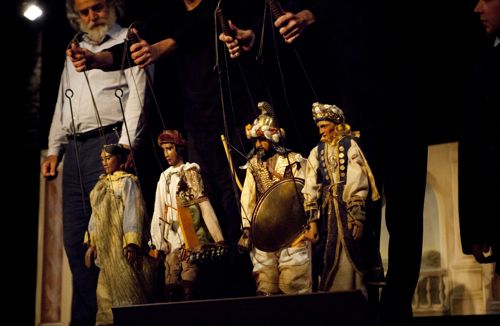 Baroque opera meets the art of Sicilian puppetry.
Sicilian Puppet Opera ' Opera dei Pupi' popular in the early nineteenth century, has declined over the past 50 years, so it is interesting to some puppeteers who continue to practice the art, which was awarded a place in 2008 in the UNESCO Intangible Cultural Heritage Lists
Puppet can be 130cm heigh and weigh 35 kilograms, and are characterized by their high metal hook and two iron rods (one for the general manipulation, the other to move the right hand). With wooden frames covered with rich fabrics, they are manipulated by a puppeteer dressed in black to melt into the background.
Vincent Dumestre's group le Poème Harmonique joins Alexandra Rübner and the performers of Arcal in the Venetian opera: Caligula, composed by Giovanni Maria Pagliardi in 1672 and previously unreleased in France.
Baroque opera and the art of Sicilian puppetry come together to paint the passions of the Emperor Caligula, an almost mythical figure intoxicated by power, and his lover, the Queen of Mauritania, in an affair that leads to madness. If the puppet theater tradition is rooted in the cultural history of Venice, Alexandra Rübner's direction is modern, the puppet's movements graceful, whilst the puppeteers who operate them and the singers who give them voice remain visible. A fascinating mix of wooden figures and flesh and blood bodies render a magical emotional expressiveness.
tenor – Caligula, emperor of Rome – Jan van Elsacker or Olivier Coiffet
soprano – Cesonia, his wife – Caroline Meng
baritone – Artabano, king of the Parthians / Domitio, consul of Rome – Florian Götz
High-cons – Tigranes, king of Mauritania / Claudio, son of Jean-François – Lombard Domitio
soprano – Teosena, wife of Tigranes – Hasnaa Bennani or Luanda Siqueira
tenor – Gela, nurse Teosena / Nesbo servant of the court – Serge Goubioud
More info:
‪Le Théâtre de l'Archipel‬
‪Avenue Général Leclerc‬
‪BP 90 327 – 66003 Perpignan cedex‬
‪Tel : 04 68 62 62 00‬
‪Email : info@theatredelarchipel.org‬

‪
Le Théâtre de l'Archipel‬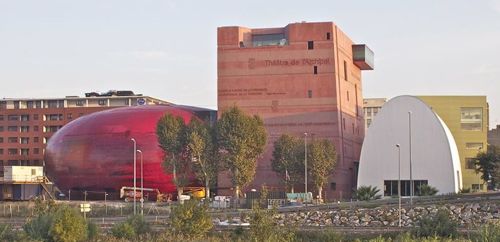 Is it a bird? Is it a plane? No – it's a theatre!
By Henry Shaftoe
The Théâtre de l'Archipel has landed in Perpignan and its autumn/winter season is a real treat.
Looking somewhat like the leftovers from an abandoned space station, or the giant contents of a child's toy box tipped on to a site by the river Têt, the Théâtre de l'Archipel is in fact a recent project by celebrity French architect Jean Nouvel.
Love or hate the exterior look of the place, the auditoria it contains are excellent and the shows put on there are of the highest international standard. The biggest auditorium in the complex is called "Le Grenat" (the maroon blob in the picture) and I admit it took me a while to realise that this is a blatant visual reference to Perpignan's reputation as the centre of garnet jewellery-making.
This is one of the finest performing arts complexes in France, with a performance programme to match, so if you have not already checked it out, I urge you to do so. More information at www.theatredelarchipel.org or call in (between 12.00 and 18.30) for their free 100 page brochure.
By Courtney O'Brien-Brown
There is an exciting new addition to the Perpignan skyline. If you have been to Perpignan in the last few months you would have noticed a large construction along Avenue Général Leclerc and a giant concrete bubble. This bubble is ‬now‪ 'the grenat,' a large theatre space accommodating 1100 guests and the venue of the Théâtre de l'Archipel. Designed by renowned French architect Jean Nouvel, the theatre will bring a touch of prestige to the previously rundown edge of the city.‬
‪The new theatre and cultural precinct is designed to be an artistic & cultural hub for the city. Welcoming local and international artists, it is hoped the precinct will encourage a spirit of multiculturalism and social tolerance.‬
‪There is something for everyone in the season line-up including theatre, dance, circus, opera, classical & contemporary music, as well as a special programme for children. Some of the artists performing include Eric Cantona, Thomas Dutronc and Yael Naim. Ticket prices range from 11€ to 40€.‬
‪For ticket and performance information you can visit the theatre website: www.theatredelarchipel.org Here you will be able to read more about "the grenat" and take a virtual tour of the site.‬