On the road in France in 2022?
Summer traffic is expected to be heavy this year, with several RED days (circulation très difficile) and BLACK days. (Circulation extrêmement difficile).
These are certainly days to avoid travelling on motorways and major roads, but also many local areas get snagged up too, as visitors come on and off motorways, or head into small towns and seaside resorts, so good days to stay at home, get out the bikes, or walk.
Check out these dates.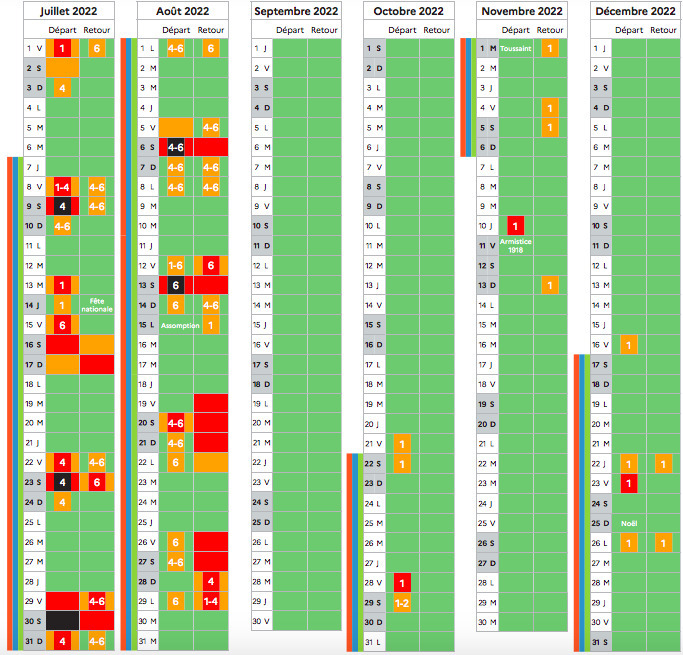 1 ile-de-France
2 Grand-Ouest et Nord
3 Bourgogne et Est
4 Auvergne – Rhône-Alpes
5 Sud-Ouest
6 Arc méditerranéen
This crossover of the "juilletistes and aoutiens" (see below) sees millions of people moving across the country and traffic monitor Bison Fute issues FIVE of its rare 'black alerts' this year, forecasting more than 600km of jams.
Motorways along the Mediterranean coast, and main routes from north to south and vice versa are expected to be very busy at these times. Check out BISON FUTE, government funded advice agency which monitors traffic and gives useful tips and advice for avoiding the hotspots, with a 'realtime' map and info constantly updated.

Check out other periods and real time hotspots to avoid at bisonfute. or ring 0 800 100 200 for real time info. (0033 892 68 78 88 from abroad)