with Ted Krasny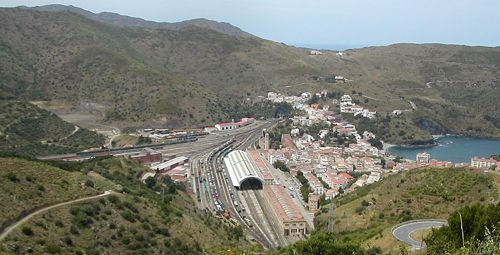 'Bleak' would fairly describe the town of Portbou, a bleakness only accentuated by its stunning environs.
A cavernous train station attests to an age of promise; its population and fortunes peaked in the 1930s and have been in steady decline ever since. Bypassed by the Costa Brava tourist boom, cheap petrol, cigarettes and spirits are about all there is to lure visitors. If they ever finish the Barcelona-Perpignan high-speed rail one fears the town might disappear altogether.
Perhaps it is fitting then that Portbou's main tourist attraction is a memorial—not to a celebrated townsperson but to a German Jew fleeing the Gestapo who happened to die on his way through.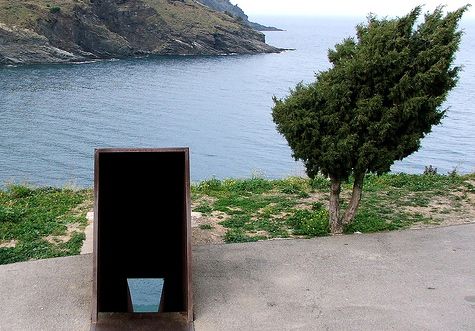 The philosopher Walter Benjamin arrived in Portbou on 25 September 1940, walking the last 15 kilometers with two fellow Jews over the Albères (along the Chemin Walter Benjamin, as it is now known) from Banyuls-sur-mer.
In his suitcase he carried an unfinished manuscript. He hoped to make his way to the United States via Lisbon but instead learned that he faced immediate deportation back across the border. Yet the Spanish authorities let him stay the night in a hotel. The following day Benjamin was found in dead his room.
The official (and generally accepted) cause of death was suicide by morphine overdose. He was buried in sacred ground under the name of Benjamin Walter, which would indicate that for some reason the Spanish authorities preferred to obscure both his Jewish heritage and the cause of death. The inexplicable was a constant in Franco's Spain.
Moreover, Benjamin may have killed himself in vain; some accounts claim his travelling companions were subsequently permitted to continue on their way. His final manuscript was never found; one imagines it rotting away with the rest of the town's rubbish of that day.
Portbou cemetery overlooks the sea from a headland on the southern edge of town. Benjamin's tombstone is scattered with stones in the Jewish tradition.
Next door, the Memorial might recall the repeated bombardments the town suffered during the Spanish Civil War, a massive rusty iron projectile embedded in the cliff top.
Designed by the Israeli Dani Karavan, it honors the man by evoking the journey of the 'nameless' refugee, descending through darkness into the light to a breathtaking glimpse of the surging sea below: freedom at once beautiful and unsettling.