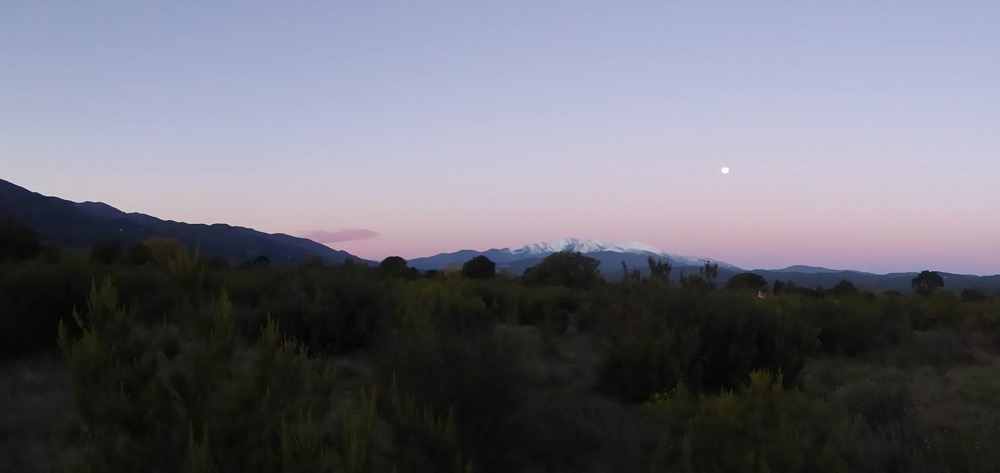 Friday 1st October
"En octobre, qui n'a pas de manteau, doit en trouver un bientôt.". A little saying that I've picked up and stored away amongst the enormous heaps of useless information stockpiled in my little brain. This excess of useless information means of course that there is no room for anything useful or significant!
October has dawned warm and cloudy, perfect walking and cycling, so my intention is to head off on my bike and see where I land.
Monday 4th October
Wow, this weather is really weird! I have been sweating like a pig for the past 24 hours (elegant little flower that I am). Despite a pleasant breeze, there is still not enough wind to cool down. Just as I was beginning to think that it was my age, Olivier produced two sweaty armpits and a drippy forehead, so I know it's not just me! First week in October and we have the air conditioning on in the office! The car thermometer was registering 28° early this morning, after a sticky, sweaty night where it cant have gone much below 24°. Incroyable.
On Saturday, Olivier went up to check on his gardeners in Llauro so I decided to bike up there and meet him! It seems that I'm not quite as fit as I was last year! I huffed, puffed and chuffed up the mountain, through Vivès, and forever upwards…. but what a sense of achievement when I arrived at the top.
I can't say the weight is dropping off me as yet, but my calorie counter watch clocked up 914 calories spent by the time I arrived, not counting the incredible downhill return into Céret via Llauro village and the hermitage of St Ferreol with views to make your heart soar. AND I only had a couple of glasses of wine in the evening, so have alcohol and sticky buns on account in the calorie bank!! Could this unhealthy attitude be the reason I remain stubbornly sturdy?
Monday 11th October
Yes! YES! Yabadabbadooooooo! Redesigned site has just gone on line. Arggggghhhhhh. It's a work in progress with lots of links still to finalize, and no doubt plenty of bugs to come – but quel bloody excitement!! My cup runneth over in buckets, helped by the torrential rain which has been streaming down for the past 48 hours! More about this when I understand my new……MAC!!
Tuesday 12th October
I'm pretty well computer less for the time being. My pour old PC croaked its last on Sunday morning. Catastrophe! I got somebody in on Monday morning and he confirmed that it is well and truly buggered and it was going to take a lot of work to squeeze any info out of the hard drive.
So I have no addresses, no telephone numbers, no P-O Life folder, no nothing really, except the site which is fortunately fully backed up….
unlike everything else on my computer!! So I went out and treated myself to a Mac and now I am totally confused!
Friday 15th October
I'm still totally confused – this Mac is getting the better of me without a doubt – but who cares? There is snow on the Canigou and the early morning is pink and crisp, with clear skies and and that uplifting light that makes even the complicated workings of a new computer seem like minor itches. I will go back to putting up photos as soon as I work out how to resize them on the new programme I am using. Could be a while!
Thursday 28th October
Well, apart from a couple of days of gale force winds which didn't bother me an itsy bitsy, October has been supercalifragilisticexpialidocious.
The constantly changing quality of the light in this region never fails to stupefy me. There are some beautiful places and incredible scenery in England but what it lacks is this uplifting brightness. I turned my face up to a warming sun, Wedgwood blue sky and mystic Canigou this early morning and felt it putting my life in perspective and preparing me for the day ahead. Yes I KNOW it sounds so cliché but a few deep breaths of pure P-O air on a beautiful autumn day may not make problems go away, but it certainly makes them feel a whole lot better.
I have been doing loads of bike riding, visiting the gym regularly… and haven't lost an ounce. What's more, on a routine visit to the doc last week, he weighed and measured me, grimaced at the weight and grinned at the measure. One metre 46! I'm sure I was the same height as my skis last year, which are one metre 50. Oooops. I think, I hope I just got the translation wrong between feet and metres, because if I have shrunk 4cm in a year, I'll be a dwarf by the time I'm 60!
Lots of photos to show you, and exciting adventures to recount….but it's apero time so it will have to wait for the weekend.