Monday 20th November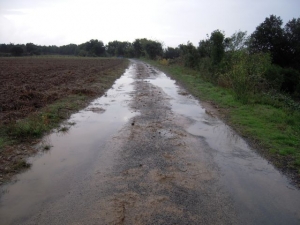 Wet, wet, wet! To say it's raining would be a bit of an understatement.
Whamming, pelting and wazzing it down seems to describe it quite well. Flooding, flowing, gushing, rushing, spilling, spouting, and spurting work quite well too, so do dank, drenched, dripping, foggy, saturated, slimy, slippery, soaking, sodden, soggy, sopping, soppy, stormy, teeming, water-logged, wringing-wet….
Actually,I don't really mind it at all. I know it won't be long before the sun comes out again, and in the meantime, it's a chance to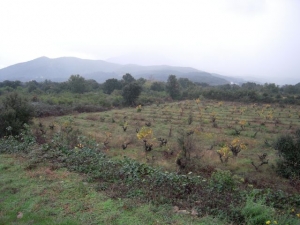 get on with all those little inside tasks that never get done, because we live in a region where you just want to play out all the time.
Olivier and I dodged the raindrops yesterday, and took a walk through the vineyards and cherry orchards of Maureillas. This first photo shows our flat little path totally sozzled and the second looks over to the Albères and the motorway into Spain, virtually obscured by low cloud – but still rather pretty don't you think? Wouldn't change a thing, certainly not the weather, as i am just about to curl up on the settee with Olivier and Bisou and watch Merlin, which we recorded with our Humax box. A glass of wine, a bag of crisps…. beat that if you can! Back tomorrow to bring you photographic evidence of accidentally eating worms in Barcelona last week. Bet you can't wait!
Tuesday 21st November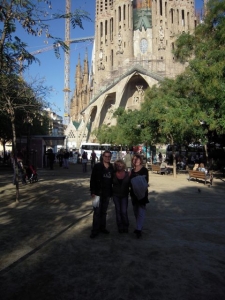 It's still raining but nowhere near as heavily and I think the end is in sight. It's fairly warm, very humid, and that uplifting light that usually punctuates a typical P-O day has taken a rain check!
Now then. Are you sitting comfortably? Yes? OK, time to tell you about the worms.
We hit the Barcelona Boat show with friends last week. Superb hotel called the Gaudi, in the centre, just off the Ramblas, for 99€ for two, including breakfast (really good for Barcelona as prices are ridiculous if you want to be where the action is) and two days of high jinx. We bought ourselves one of the little boats on display in the harbour for a mere 1.9 million euros (not including options). No, of course we didn't really but we played lots of 'Let's pretend'.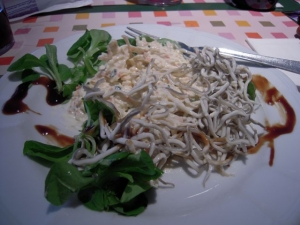 ANYWAY, for lunch on the first day, before we became hardened Barcelona visitors and learnt where not to go and what not to eat, I was served worms!
Go on, click on the photo. I dare you. That was my lunch! Don't know how, but the others were having pizza, and I wanted a salad, and thought I'd ordered surimi/crab salad.
Nope. Out it came, bit of surimi and mayo totally obscured by writhing worms. (Well, I admit they weren't writhing, being dead, but they LOOKED like they wanted to). Our dear friends and my double dear husband convinced me that they were bean sprouts…. so I tried them.
First mouthful was a bit nothingy. "Shouldn't they be crunchy?" I said. "No" replied friends. " Spanish bean sprouts tend to be a little bit rubbery" Second mouthful and I started becoming suspicious. Something fishy was definitely going on. Something just wasn't right. Then I noticed that nobody could quite look me in the eye. Arrgghhh. Fork down – confrontation time. "What am I eating?"
'Angulas'….. Spanish for young eels, or 'elver' eels, which are only about 3 inches (8cm) long and the thickness of a strand of spaghetti. In fact, I wasn't even eating the real thing – I was eating mock angulas, commonly known as gulas, as the real thing is too expensive to wriggle around in my tummy.
I went very quiet for the rest of the meal, (Olivier was actually quite worried at this unusual phenomena) purchased two mars bars the minute we got out of the restaurant (double price at the Sagrada Familia stand but worth every penny) and sent them straight down there to do battle with the eels. Somehow, I felt 'purged' and was able to follow the mars bars up with six beers…..
Wednesday 23rd
Summer's back. Blue skies and warm sun – temperatures around 19° to 23° in the sunshine. Slightly dampened spirits soaring skywards!