Thursday 22nd November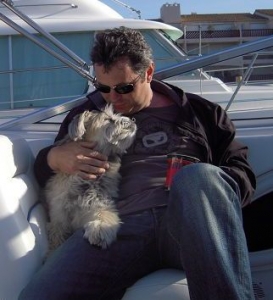 I'm back! Not from outer space like Gloria Gaynor, (although I have been told that I look a little boggle eyed first thing in the morning), but from a blog holiday.
Summer was great, autumn was set to be even better as it is absolutely my favourite season of the year. Sadly, we lost our beloved hairy daughter in traumatic circumstances, and were plunged into despair for a time so autumn didn't really register. But I'm back, still feeling 'wrong' that she isn't here at my feet as I type, her head resting on my feet, but content now with a million happy memories which remain in my heart and head…. and on my computer, photos that now make me smile where before I wept, feel lucky where before I felt empty. Much loved, never forgotten
So it's winter. And I know you may not want to hear it… but I like winter here in the P-O. We get a certain amount of wind and rain but we still have the light – crisp, dry sunny days perfect for long walks and bike rides. That light is like a lifeline – hoists me up on the rare occasions when I'm down, reminds me how lucky I am to be here, keeps a smile on my face and a skip in my step… On the minus side, it prevents me from giving up cold beer and deflating my rotund tummy. Olivier, stick insect that he has always been, finds it very amusing that I have grown a little corpulent. "Hé hé" he says "Tu as un petit ventre de propriétaire'. Don't the french have some cute expressions…… NOT.
A fabulous day today, warm and sunny, less so in the shade but looks like summer through my window. Winter never really seems to take itself seriously in the P-O until January, when it can get f-f-f-f-f-ffreezing – certainly cold enough to make your eyes sting and your ears glow, but even then it never lasts too long, and we always get a few days of sunlight in between, so I ain't complaining.
We rode from Port la Nouvelle through Narbonne on towards Carcassonne along the Canal du Midi last month – about 70km in all.
On the way there, although the sun was sparkling on the étang, and bouncing dazzling rays off the Med, the wind was against us. It was like pedalling ever uphill, and I admit I was trailing, ears back and tail tucked in, dog-eared, a little despondent even, wondering how long my little plump legs could keep up the pressure for 30km. Oliver of course, absolutely went for it, despite being told by the more experienced rider (Yes, me! Don't look like that!) that he would be too tired for the return journey, sore bottom, protesting thighs…. but oh no. He knew better.
Course, by the time we arrived in Narbonne (a fabulous town by the way and well worth a visit) he was already slowing down, happy to 'cruise at my pace', still with a grin on his face (cos how could you not on a day like that?) but I knew, oh I knew. After a rest and picnic on the canal banks, and 30 minutes into the journey back, he was quiet, a pained look on his face. Yes, bottom and thighs a total mush. I didn't say 'I told you so' as that would have been rubbing his nez in it a little, particularly with 30km still to go.
He didn't say another word to me apart from an occasional imitation of Father Jaques in the Father Ted series (drink!), but as the car, parked on the side of the canal at Port la Nouvelle, came into sight, I have never seen such a look of relief. Great day though, and I thoroughly recommend it to cyclists, tho bear in mind that the going gets tough when the wind is against you. The return ride south with the wind behind you though, is a doddle, unless you have a sore bottie of of course.
The path is off road and flat all the way so even the unfit can have a go.Recommended for families, the only traffic along the banks is other cyclists and walkers. We intend to take the bikes on the train to Toulouse in the spring and ride back home to Maureillas, BP (bottom permitting) stopping in hotels on the way. So excited.
Last week, we rode to Villeneuve de la Raho, about 55km round trip via little roads and cycle tracks that took us through villages and areas that we have never visited before. Olivier wisely decided from the beginning that I could set the pace! Another great day.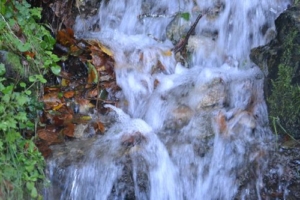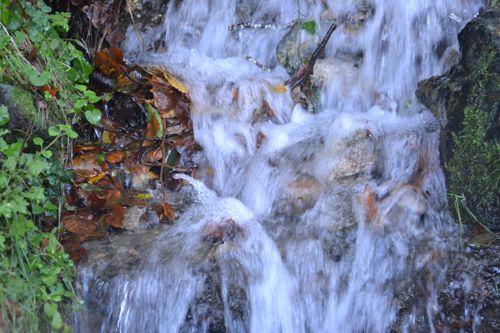 I have a new camera, yes I do! It's an 'all bells and whistles' one with loads of buttons that I don't know what to do with, a lens that I don't know how to focus, and a new computer editing programme that I don't know how to use. What a tester for an artistically challenged chap such as myself. Olivier, who attacks the learning of any new gadget with military precision, has become obsessed with photographing water. Apparently we have a special button for moving and still water.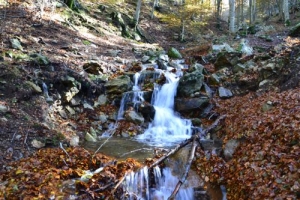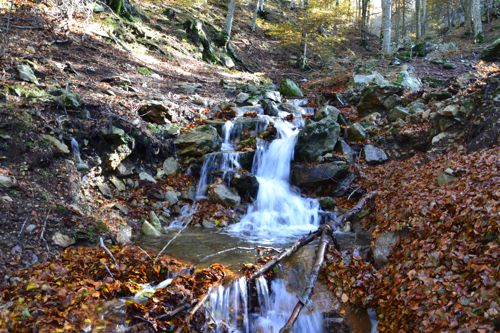 "But it"s MY new camera" I keep whining, tugging on his jacket sleeve, waiting ever-so-not-patiently for a turn on MY new camera as he snaps yet another waterfall up at Col l'Ouillat. I have written about this fabulous stroll, recently adapted for the disabled, in the next set of Days Out in P-O Life and desperately want to have a go at taking my own photos but it took a struggle to get hold of the new toy. Gotya! Here's the view…..well worth the whining.
Anyway, lots of photos of waterfalls to follow tomorrow. Right now, it's cuppa tea, ginger bicuit and Kindle time. Life is sooooo hard. Fins aviats, à bientôt.
Wednesday 28th November
Waooh! Big change in temperature today, with a mean wind rattling the rafters, and moody skies above. Still, it should get rid of any nasty microbes hanging around in the air. Every cloud…. And really, we don't mind at all as we've had enough sunshine to keep us going for a while, and it gives us a good excuse to get horizontal in front of the television, a little luxury which still makes me think weekend.
P-O Life is at the printers awaiting pick-up at the end of the week. Another good 'un though I say so myself, thanks mainly to gratefully received input from some excellent writers and researchers.
I have learnt so much from producing this little gem, it provides me with so much pleasure, I am sooooo lucky, lucky, lucky, not just to be the editor and writer but also to have such a loyal following of readers both french and english speaking. My main problem is not being able to keep up with demand – they disappear so quickly and I just don't have the funds to print more – but what a great problem to have eh?
This afternoon, I had the last meeting of the year for my writing group, a gaggle of delightful ladies who meet up chez moi once a month to encourage each other to put pen to paper and write….poetry, prose, fiction, fact….. There is some real talent amongst them and I look forward to being the Mrs 10% who discovers the next overnight writing sensation.. Shades of Grey has nothing on us. In fact, we did have a swearing workshop last month, though being rather genteel, we kept the naughty words to a fairly well controlled minimum. We might have a go at sex next.
Whatever we do though, I know it will always be relaxed, thoughtful and 'agréable', a meeting of friends who motivate and support each other.
By the way, if you have a holiday home in the region, or are frequently absent, do try and find a kindly neighbour to check up on it. Local police report an enormous increase in burglaries throughout the department, there are so many empty houses and the P-O is a magnet for thieves, due to its position on the Spanish border, allowing ease of gettaway, the ratbags!
And it's snow, snow, snow up the mountain, so pull out your skis, dust off your sledges, pull on your silly hats and prepare for the ski season!
Still haven't quite mastered my new camera. Am going to sit down now with a glass of red wine and read the instructions!