Allez l'USAP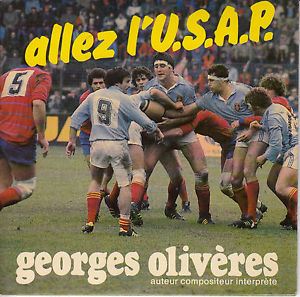 USAP are looking for a new official anthem to give the fans some good chanting material and establish their identity, so if you're a songwriter, now's your chance to make a name for yourself in the world of rugby.
The club has been looking for the right anthem since 2012, to replace 'L'Estaca' by singer Lluís Llach, powerful symbol of anti Franco Catalonia, but not really bursting with sporting sentiment!
L'Estaca itself replaced Els Segadors (the reapers) which was declared the national anthem of Catalonia in 1993 by the Catalan Parliament. It is based upon an anonymous ballad written in the second half of 1640, and refers to the Revolt of the Reapers in a Catalonia occupied by the troops of Philip IV in which the peasants played a key role. The anthem is a fierce call to defend the freedom of the land, calling upon the peasants to cut down the Spanish oppressors with their scythes, 'swing the sickle', ' sharpen the tools'…..
Another USAP adopted song was 'Els hi fotrem' ('We're going to give them Hell' might be a rough translation) by Jordi Barre. None of them are felt to fit with the spirit of fair play that the game represents today.
For now, an old song entitled 'Allez l'USAP' has been revived, sung by Georges Olivères of Sorède and dating back to 1978. Available only on vinyl record, it will be the USAP song until something more modern comes along!