Although almonds do have fat in them, it is actually mono saturated fat, which is great for your heart, and there is solid evidence that including a handful of almonds in your daily diet can have a significant impact on heart health.
Eating two or three almonds before meals has been shown to decrease after-meal surges in blood sugar, lowering the risk of developing diabetes.
Healthy and delicious!
Simple Amandine tart
A teatime treat baked on rare rainy days by Kate's husband, Olivier!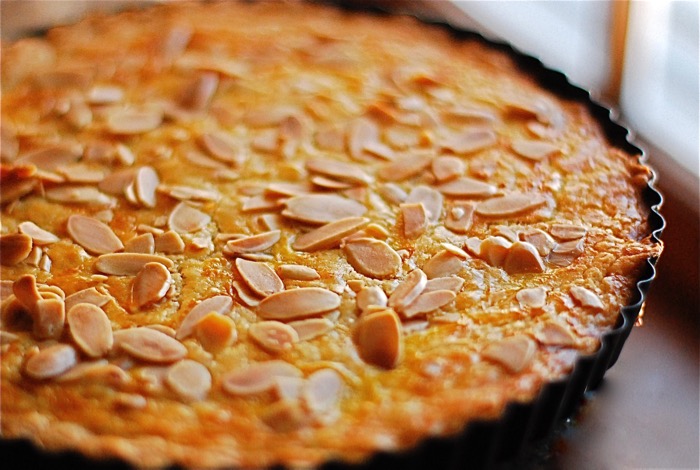 Ingredients
– Shortcrust pastry for base (pâte sablée from supermarket)
– 150g almond powder (poudre d'amande)
– 100g brown sugar
– 1/2 tspoon almond extract (amande amère)
– 2 eggs 50g butter 1-2 tspoons cognac, rhum etc (optional)
– sliced almonds (amandes effilées )
Preheat oven to 180°C (Thermostat 6).
Mix softened butter with sugar, stir in beaten eggs and almond powder.
Add almond extract, and cognac if required.
If mixture is too solid, add a little cream until good pouring texture, not too liquid.
Grease a cake tin, line with pastry base, puncture with fork, and spread on a thin layer of raspberry jam.
Pour in mixture, sprinkle on sliced almonds and bake for around 30 – 40 mins.
ENJOY!