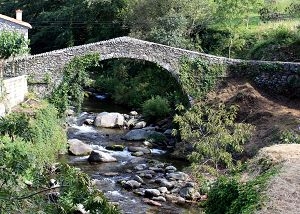 Sitting on a smooth boulder watching the Lentilla river tumbling over rounded rocks, swirling and eddying, forming pools and providing perfect picnic spots, is a pretty idyllic experience.
Bright dragonflies dart over the surface, ultramarine flashes of brilliant blue on the dark water.
In autumn the rich colours of many different trees are reflected in the deeper pools Buddleia and other shrubs line the banks.
In summer the butterflies are myriad and breathtakingly beautiful. Small notices tell the names of the trees.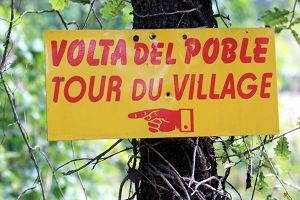 The cleared walkway from Baillestavy over the donkey back bridge and through flowery meadows affords several easy access points to the river.
And the drive from Vinca (on the N116 between Ille sur Tet and Prades) along the winding D13 is a dramatic one. The narrow road leads to the Lentilla valley through wild and wonderful mountain scenery, clinging to the steep mountainside.
Far below a small irrigation canal can be made out following the river. Canigou, majestic and omni-present towers over receding ranges of lesser near vertical mountain slopes.
After 10 km Baillestavy is reached. Iron has been mined here since the 1st century BC but now the old forge is a charming Bistrot du Pays, honey is made, goats and pigs are raised and tourists in search of peace and tranquillity are well catered for. It is here that the footpath leading to the ancient ruined church of St Andre begins. It is said to be suitable for wheelchairs but the donkey back bridge and sections of the path cobbled with large and uneven river stones actually make this claim unrealistic.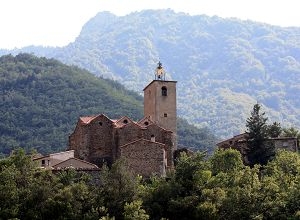 Follow the "Tour de Village" signs to the cemetery leading to the chapel of St Andre. Now being extensively restored, it was originally built on old industrial iron workings in the IX century. It grew in importance between the XI and XV centuries but fell into disrepair and was abandoned when the church of the "Torre Mila" was built in 1665 in the "new" village high on the hill.
It is a steep climb up to the "new village" but worth it for the view and to visit the church. The walk takes from 1 ½ to 2 hours but allow plenty of time for sitting by the Lentilla river and drinking in the beauty and peace of your surroundings.
Enjoy a picnic by the Lentilla river – and watch out in particular for salamanders because if you're a bit of a fan, Baillestavy, is the place to be.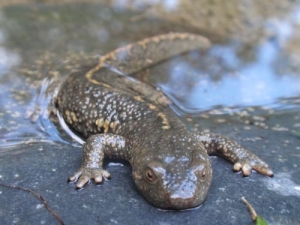 The Pyrenean Brook Salamander can only be found in the Pyrenees of Andorra, France, and Spain, and Baillestavy has become well known for these prehistoric looking creatures. Squarish head, warty skin, in shades of olive, grey, charcoal, or muddy brown an intermittent yellowish stripe down the spine, the Pyrenean Brook Salamanders can live as long as 20 years, is alive and well, and thriving in Baillestavy.