Lambs and chanting
After a while we forgot all about the worst bits of keeping animals (chasing around the fields, putting them in the back of the car to take to the vet, etc) and the fields started to look, well, sad, somehow. As well as empty, of course. There was all that grass and nobody to eat it, instead hubby having to strim and cut it. We decided that if we were to keep animals again, this time, much as it went against the grain, we would be sensible and do some research into which animals would be suited to the climate and vegetation and which would be easy to keep and possibly productive in terms of milk or meat.
After many hours on the internet hubby came up with the answer. Cameroon sheep.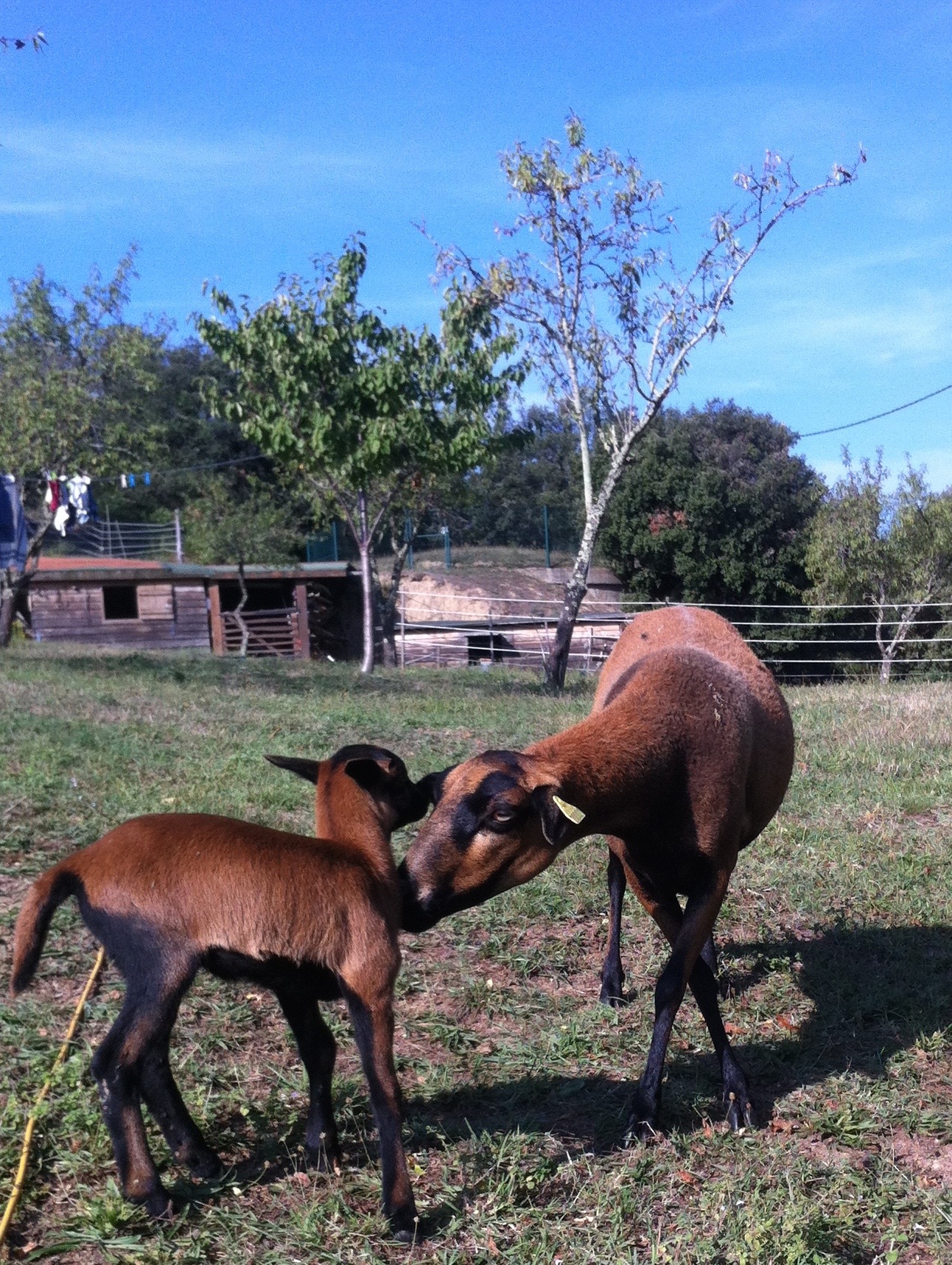 As their name suggests, these sheep originate from Africa, they have hair coats instead of wool and thus do not have to be shorn. And everything we read about them said they are hardy and easy to keep. However, we soon discovered that Cameroon breeders in our little corner of France were few and far between.
We eventually found a Belgian couple selling Cameroon lambs in Pamiers, and set off with the horse box in tow. It was a beautiful day with a bright blue sky and golden sunshine. As we drove, the view was spectacular, with the whole of the Pyrenees, glinting with snow, spread out before us. We found the little farm on an isolated hillside with views of the mountains. With four female sheep in the horse box we set off for home and once there we released the animals into a small enclosure that hubby had built for this purpose.
Just as we were unloading our new purchases a couple of friends arrived to watch. The animals were spooked and whoosh, they jumped the fence with amazing ease and in seconds were headed across the lawn towards the road.
The four of us ran to surround them to try to herd them back into the enclosure but the more we tried, the less they were having any of it, and besides, my flower beds were beckoning. Just as hubby was trying to get everyone to back off and keep quiet another friend came hurtling up the drive in his car, tooting merrily on his horn. I waved my arms at him to stop and hopefully to shut up. He ignored me and carried on driving up towards the steps to the lawn, where the sheep were surveying the lie of the land and considering their next move.
After a lot of time and patience we managed to get the sheep back in, despite friend number 2 telling us we were doing it all wrong. After that we learned that our girls will follow anybody anywhere if they have a bucket of feed in their hands, but try and herd them? No way.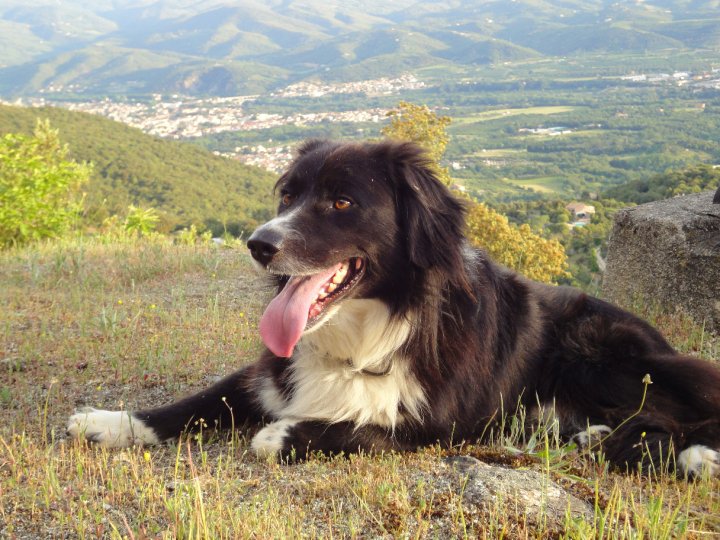 While walking the dog one day we noticed several cars parked outside our Catalan neighbour's farm and wondered if there was a problem. We saw the butcher drive past in his van and then spotted our 85-year-old neighbour in her garden, dragging the large black pot behind her, and guessed it was a kind of ritual killing of the pig. Back at home in our garden we heard the pig's screams and felt sad. As a meat eater it was not the killing of an animal that upset me, but the traditional way in which it is done in Catalonia.
Since her stroke, my friend Jo had been attending my monthly chant group and it seemed that Jimmy, her tall, handsome Spanish physiotherapist, who was into complementary therapies, had expressed an interest. When the chant group convened in my lounge the others were delighted to see not one man but two! Jimmy had brought along a French friend and everyone babbled away in a mixture of languages. Luckily, Brigitte was able to explain the principles of chanting to the French members while someone else explained them in Spanish. Having two male voices in the group was wonderful and we ended the session with a chant for peace.
The next day I visited Jo at her house. "What have you done to my Spanish god?" she demanded.
"What do you mean, Jo?" I asked, perplexed.
"After your chanting class yesterday he cried for an hour." Well, chanting can have that effect on people, I just hoped it had been a good kind of crying and that it hadn't put him off coming again.
A month after buying our Cameroon sheep we were surprised by the unexpected arrival of new-born lambs. Unfortunately the weather had taken a turn for the worse and it was about -6 degrees outside. Two birds of prey were circling overhead so we got mother and baby into the shed with a nice bed of hay.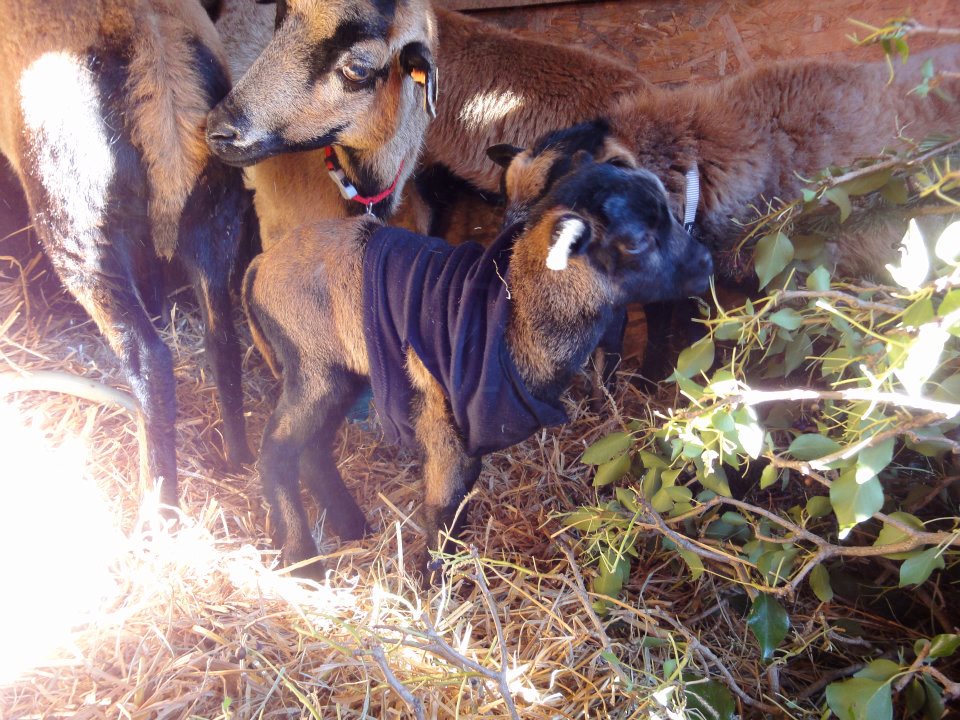 Overnight the temperatures plummeted to -10, accompanied by howling gales, so I didn't sleep a wink. But the lamb was alive the next morning and I spent several hours trying to plug the holes in the shed that were allowing an arctic gale to blow through. The next day snow was falling thick and fast, and two more lambs were born. We soon discovered that Cameroons don't like going into sheds, they feel trapped and so I had to hide behind the shed door, ready to spring out and shut it once hubby had lured them inside. Then I amused myself making lamb jackets out of hubby's old socks.
The following month it was time for the chant group again. All the girls settled down and waited, but there was no sign of our two gorgeous men.
Notwithstanding this blow we had a great session with a lot of laughter. Near the end, as we were drinking herbal tea and eating biscuits, someone screamed. A very red nose was pressed to the windowpane, accompanied by two bloodshot eyes and a large, black handlebar moustache.
It was Bloodshot Eye Man, clearly rather inebriated. I told the group to continue with a chant they knew while I attempted to communicate.
It transpired he thought hubby and I were wonderful neighbours. "I am going to say something special now," he said, and paused for effect while I waited anxiously for what was coming. "You are such lovely neighbours," he repeated. "Can I borrow your tractor some time soon? And where is Bill?" I sent him off in the direction of the veg garden and shut the door, to the great hilarity of the group.
Within minutes my neighbour was knocking on the window again, seemingly anxious to say something. After telling me a few more times how nice I was, he asked if hubby and I would like to come for Sunday lunch with him and his mother. I assured him that we would but he didn't seem to believe me. We wrote the date down on a piece of paper and apparently satisfied, he staggered off.