Domaine Lauriga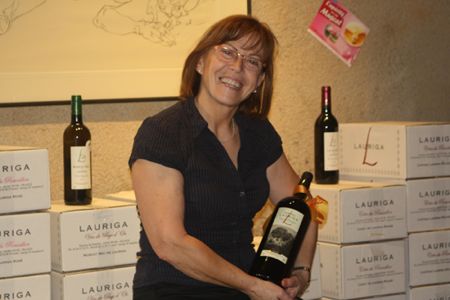 From her infancy in Algeria, Jacqueline Clar's passion was horticulture.
Her much loved Grandfather, a natural gardener and florist, had had a rose named after him, specialised in artichokes and citrus fruits and taught her to love life and respect nature in all its forms. Her parents were market gardeners.
When, in 1962, the family came to the Pyrenees Orientales, she went to school in Toulouse.
René Clar was born into the vines, his parents vignerons, his father the wartime mayor of Ponteilla.
He too went to school in Toulouse. When they married, all four parents advised against making a living off the land. But their roots went too deep.
When his parents died, René and Jacqueline put the family vineyards in order, restored the beautiful old Mas and modernised the cellars.
Both were passionate about wine and the ancient vineyards they had inherited.
The diversity of the land enabled them to produce a list of very varied wines. The pebbly terraces with heat holding river stones, the Tramontane wind cleansing the vines of unwelcome diseases, the well drained soil, all were plusses.
They worked consistently to improve and restructure the land in the spirit of harmony and respect for the environment. They succeeded. Prizes and medals were won,
Lauriga wine sold in restaurants all over the P.- O. The Neptune in Collioure and La Vienne in Perpignan to name but two.
Then, tragically, four years ago, René died. A lesser woman might have given up. Jacqueline Clar is not a lesser woman.
Her deep love of their land, their ambition to produce the best quality grapes and from them to create top quality wine at affordable prices, kept her going.
The Domaine was known in Roman times as 'Laurinya' after the laurels, much used in Roman head dresses, that grew along the road.
(For a while it was referred to as "Vigné del Rey" when, in 1068, the French King gave the property to the Abbey of Cuxa.)
Jacqueline says that their version of the Roman name ends with a smile. 'Lauriga'.
She smiles a lot.
And, when you visit the Domaine, and taste the wine you too will smile.
Priced from 5.50 – 22 euros a bottle the 'rapport qualité/prix' is beyond doubt.
The tasting room is decorated with the straw hats her parents-in-law wore when working in the vineyards, the little basket in which her husband took his mid morning snack to school, the huge wardrobe from the old family house in Ponteilla.
In it you will be offered a light Muscat sec to compare with the complex Soleil blanc de Lauriga, the rich red Cadet, a bargain at six euros and the sophisticated Chateau Lauriga worth every cent of its twelve euros.
The naturally sweet Muscat and Rivesaltes are further medal winners…
A wine lovers experience not to be missed