The commune of Eus also encompasses another village, that of Comes. It's an hour-long trek up the mountainside from Eus to the ruins of this abandoned village, 2 hours for the more physically challenged. Take a picnic and plenty to drink.
As long ago as the 18th century Comes was a thriving village community. Today, all that remains, are the now lifeless shells.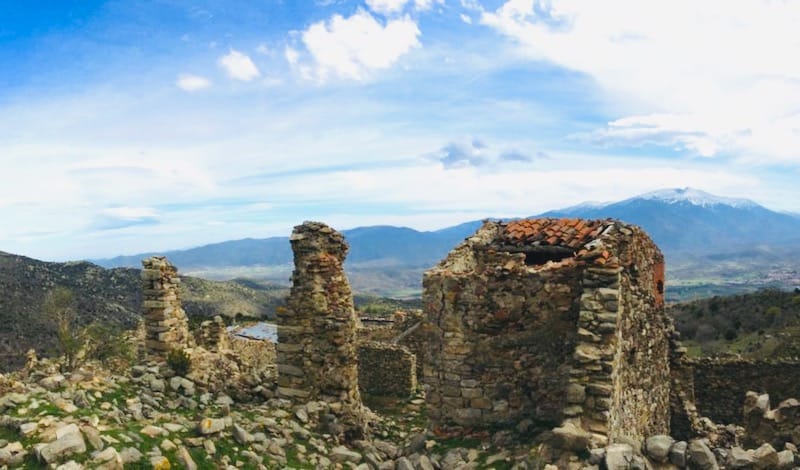 Some of the graffiti on the ancient church tell us of these Comes people and their ancestors; the rest are chronicled meticulously in the parish records of Eus.
Wonderful christian names abound in the records such as Bonaventure or Elysee, suggesting fun and delight. However, it would seem that there was precious little to smile about in olden-times Comes.
Children walked four kilometres down the mountain to go to school come rain, hail or shine, and wended their weary way upwards at the end of the day. Life was tough, a constant battle against summer wind and winter cold and perpetual drought. It was the last of these three which finally saw the end of the village.
Seven successive years of rainless sècheresse in the 1920's finally saw the last of these hardy people retreat down the mountain to Eus and Prades, and their families are now dotted around the lower valley, the lonely cemetery left to bear silent witness to hundreds of souls taken unwillingly before their time.
The Église Saint-Étienne de Comes is the only building now still standing with a roof. Its romanesque shape and its dry-stone walls betray its date of construction around the 10th century and there is a sad beauty in the simplicity of its lines.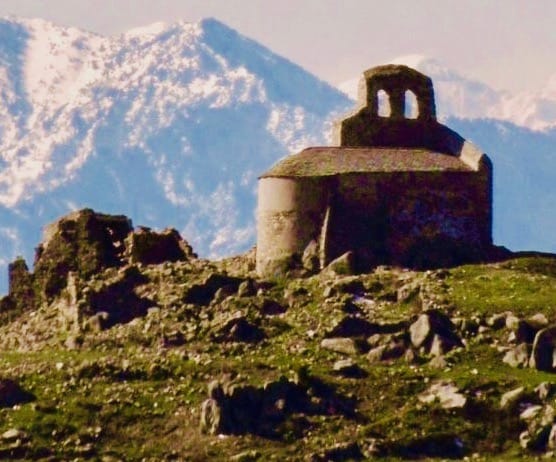 Inside, it is equally sparse and bare, though not severe, since traces of deep blues and rich reds dating back many hundreds of years can be seen on its crumbling plaster walls.
Some of this sparseness is due to the devastation caused by passing bounty-hunters, who have stolen just about everything that could be moved, including the altar and some of the ornate grave stones in the cemetery. The altar rail though is still in place, standing guard over the raised stone platform of the chancel.
The views are stunning.