'El Bulli: Cooking in Process'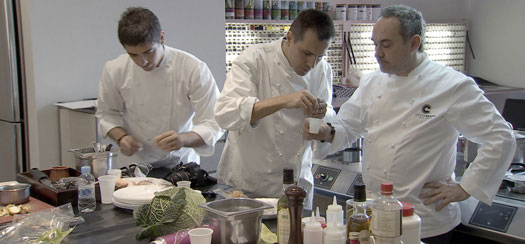 El Bulli, renowned Roses restaurant, which opens for for six months of the year, evenings only, and has been considered the world's best restaurant for more than a decade, is to close next month
Whilst July 30th will be the last day that El Bulli will open as a restaurant, it will re-open as a non profit making experimental cooking centre for the 'advancement of molecular gastronomy'.
And if you are devastated to have missed the chance to eat Sorbet of Cheese-stuffed Strawberries with Campari & Orange Confit, Spherical Egg of White Asparagus with False Truffle, Frozen Air of Parmesano with Muesli, Rabbit ear crunchy, Raw rabbit's brains and sea anemone…… don't despair. Based on Lisa Abend's book The Sorcerer's Apprentices, the documentary/film 'El Bulli: Cooking in Process' out this year, stars El Bulli owner and acclaimed chef, Ferran Adria, and gives you a chance to spend some time in the El Bulli kitchens..
According to Alive Mind Cinema , "…..audiences have a rare and intimate view of Adrià's visionary and scientific process – from initial experimentation to the premiere of the finished dish. In the course of developing a new, yearly menu, every selected ingredient is examined in a totally new way, and all ingredients are systematically analyzed: by boiling, roasting, frying, steaming – vacuumizing, spherifying, freeze-drying – and then tasting"
Shot in the restaurant when it was closed out of season, the film uses actors alongside actual chefs, a behind-the-scenes up-close-and-personal up of Ferran Adrià and his team of experts as they concoct new dishes for the 30 course menu, the kitchen an artistic laboratory of tasting, smelling, designing and carefully recorded new ideas.
At an average cost of £200 per person, El Bulli nevertheless received between 500,000 and 2 million applications for just 8,000 reservations, and over 3,000 accomplished chefs from around the world vie for one of 35 slots in the kitchen.