All Aboard the Santa Special
---
10th December 2017

-

21st December 2017
Event Navigation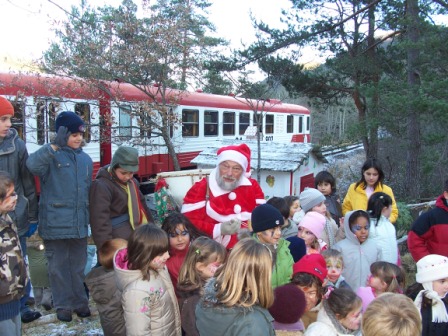 Les Trains du Père Noël – Santa special 2017

Depart Rivesaltes 9th, 10th, 16th, 17th, 20th, and 23rd.
Organised by the Train Touristique du Pays Cathares et du Fenouillèdes, (TPCF), this Christmas train will leave from Rivesaltes on the 9th, 10th, 16th, 17th, 20th 17th,18th, 20th, and 23rd December.
Non stop entertainment for both old and young including a visit from Father Christmas, who will appear out of the forest, distribute sweets and presents, and accept any letters addressed to him from the younger members amongst his fans.
☃ Hot drinks and nibbles
☃ A present for every child
☃ Make-up workshop on board
Tickets and info: 0468599618. www.tpcf.fr
---
More about the Train du Pays Cathare et des Fenouilledes
A trip on the 'Train du Pays Cathare et du Fenouillèdes' (TPCF) with its bright red and white carriages is not just recommended for train enthusiasts. Along the way, there are magnificent views, oceans of vines, Cathar castles – and plenty of opportunity for wine tasting!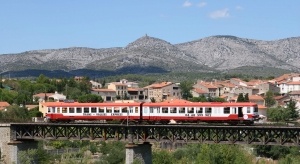 Starting at Rivesaltes, north of Perpignan, the train chugs along this 100 year old railway line to Axat, high up in the Fenouillèdes – a slow climb of over 60 kms.
Through Espira onto Cases de Pène, where the tiny hermitage church of Notre Dame de Pène can be seen on the left hand side, and the vineyards of Château de Jau on the left. Make a note to come back this way again (with a teetotal driver if possible) for the fabulous Château de Jau tasting lunches and dinners held by the lake in the shade of a 300 year-old mulberry. (www.chateaudejau.com)
On next to Estagel, birthplace of François Arago in 1786, scientist, astronomer, politician, adventurer and general swashbuckler. Find out more about him on our website.
Look out too for Mas Amiel, with its multiple glass 'bonbonnes' full of naturally sweet wine. This 80 hectare domaine was won in a game of cards two centuries ago by Raymond Etienne Amiel, and originally belonged to the gambling Bishop of Perpignan.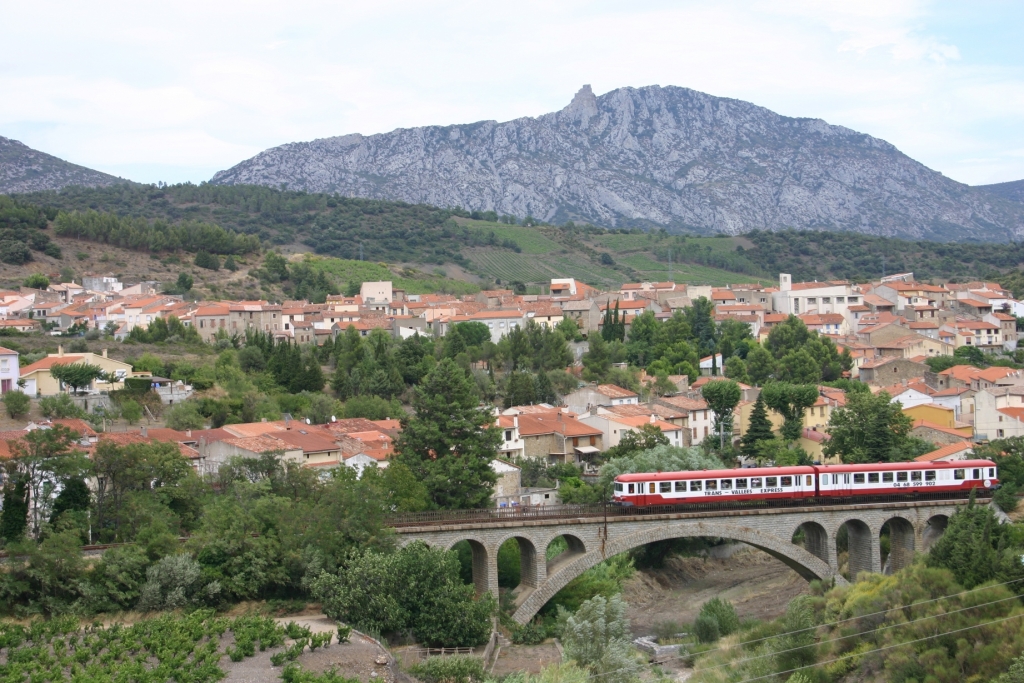 In the distance, across the seas of vines, the last of the Cathar strongholds, Chateau de Queribus stands proud on its 728m high rocky pinnacle. As you draw into Maury station, most fortuitously linked to the cellars of the Vignerons of Maury, it is time for some wine tasting – or the perfect stop if you want to visit the nearby castles.
On the front of the station, you will also get a taster of something else that Maury is famous for – its murals! Is that really a dog standing in front of a wine barrel? In fact, is that really a wine barrel? These incredible 'Trompe l"Oeil' throughout the village were painted by Bernard Gout from Perpignan and are well worth a wander.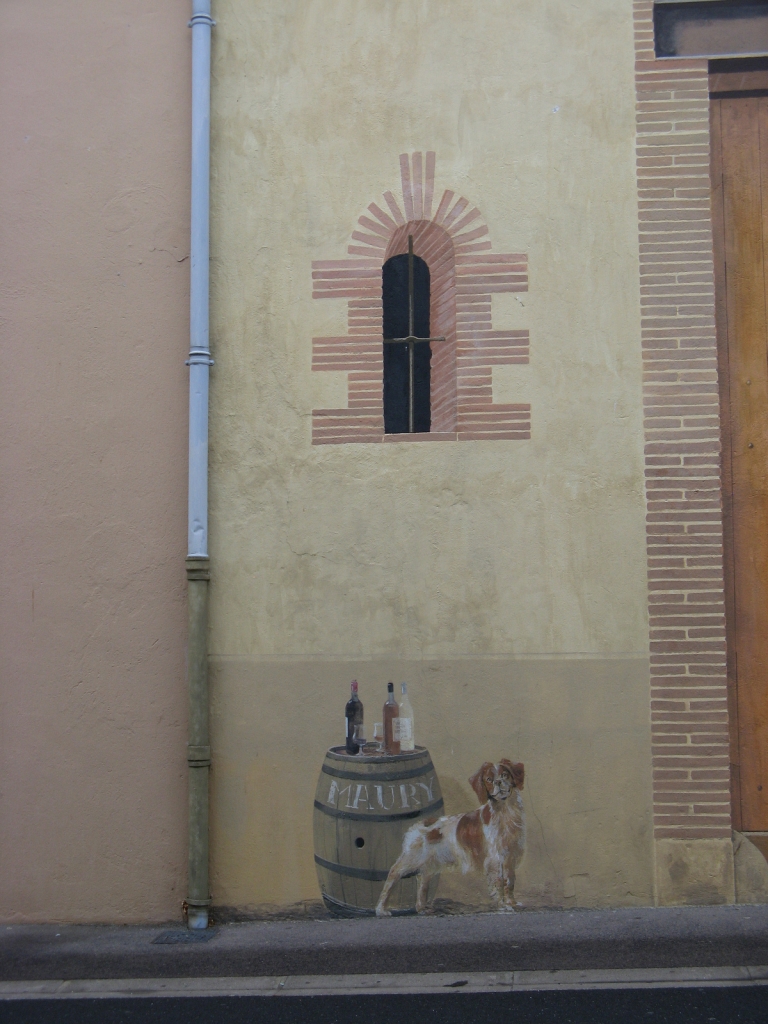 From Maury, continue on to St Paul de Fenouillet, where a bus is sometimes laid on to explore the Gorges de Galamus. (Check with the train website.) with its spectacular and dramatic scenery, for a delightful picnic by the pretty rock pools.
Onwards and upwards to Caudiès de Fenouillèdes, last stop in the P-O. At Lapradelle the train stops on the 1904 viaduct to allow you to admire the Chateau of Puilaurens, before finally stopping in the pretty little town of Axat. In the reception hut is a perfect model of Axat Station in the 60s made by one of the founder members of the TPCF.
Look out for the fun theme trains…..the Scary Halloween Special on 31 October, the Christmas and Easter trains….
The timetable and differing circuits and events offered vary from month to month. Check out their website on www.tpcf.fr …….and have a great day.