Dogs are allowed on the following beaches during the summer months when the NO DOGS rules are more strictly observed.

They should nevertheless be kept on leads if they have a tendency to wander, and a doggy pick up bag should be in easy reach in case of an accident.
A reminder too, 'tho' we know it's obvious to most people, to take a fresh water bowl and a parasol if you're settling down for the day with your furry woofers. Remember that the sand can get very hot under little paws and they can't strip off like you can!
Part of

La Franqui Beach

La Plage de l'Aqualand (Long golden sands opposite Aqualand, unsupervised)
Torreilles
Canet en Roussillon
La plage du Lido

(between Canet and Saint Cyprien)
Saint Cyprien
La plage du Bocal du Tech

(also nudist)
Plage de la Marenda

between Saint Cyprien and Argelès.

Racou

(only at the far end where it is unsupervised)
Les Criques de Porteils between le Racou and Collioure.
Two stony beaches where dogs are allowed.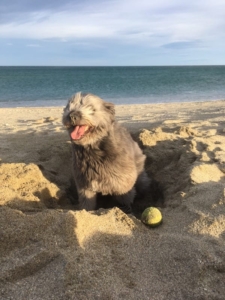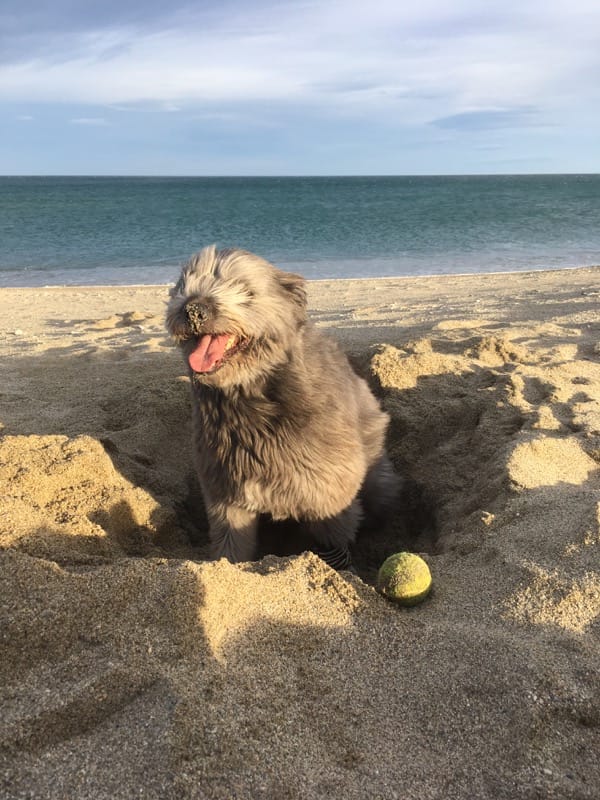 ---
– In Canet you can walk your dog on the beach outside of the high season. Not sure if it's actually allowed, but certainly tolerated. And even in the high season, it's usually OK late evening/early morning, as long as you avoid the really busy bit around Place Med.
– You get the whole of the Racou beach outside of summer instead of the corner. Another beach we like is the ouille. Park near camping les criques de porteils and about a 10 min walk to the beach open all year for dogs
– From Le Racou you can walk the coastal route to Collioure. I let my dogs off the lead there.
– Between Etang St. Nazaire/Etang de Canet and route D81 (which divides the Sea from the Etang) there's a natural area (and 'Village de Pecheurs') It's the part from the camping site in North to the Observatoire Ornithologique in the South
– If you go to the quieter beach inbetween Canet and St Cyprien, dogs are allowed there and off the lead!