Places des Neuf Jets in Céret went back in time to 1943 under the German occupation.
Jean Rochefort is the painter, his young nude model is Spanish actress Aida Folch, and the artist's wife is a dazzling Claudia Cardinale.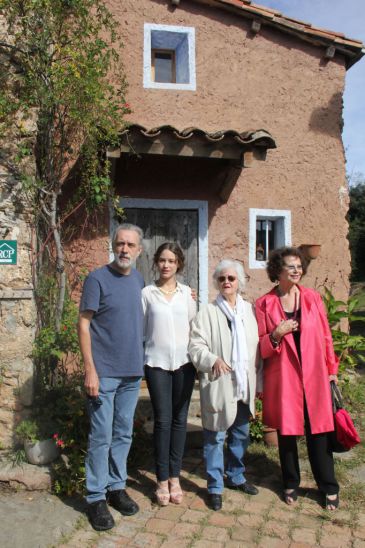 Released in 2013, this film by Spanish director Fernando Trueba was filmed partly in Céret and the surrounding area. L'artiste & son modèle is based on a true story and stars Jean Rochefort, Aida Folch and Claudia Cardinale.
Set in 1943 occupied France, the story tells of an ageing hedonistic painter of female nudes and his relationship with beauty and beautiful women.
Summer of 1943. Not far away from the Spanish border, an old but famous sculptor lives peacefully with his wife. But he is tired. Tired of life and wars.
He finds the desire to work again and create his last masterpiece when a beautiful young Spanish girl comes knocking on his door after escaping a Nazi concentration camp. She becomes his muse and he finds the motivation to work again.
Model and artist, while working, speak with simplicity and honesty of everything that surrounds them: life and death, the injustice of the war, youth and old age, the search for beauty in times of horror, the meaning and the need of art…
Fernando Trueba, director, screenwriter, writer, and music producer, won the Academy Award for Best Foreign Language Film with Belle Époque in 1994, three Goya Awards (the equivalent of the Spanish Academy Awards), 2 Grammy Awards and four Latin Grammy Awards.
Interviewed about 'L'artiste et son modele' he said: The issue of The Artist and the Model is a frequent subject of modern art. Picasso and Matisse have been some of his most assiduous frequenters. It was not a narcissistic exercise, it was an issue that went beyond mere self-portrait. My film is intended as a variation on this theme