Fisherman-artist: Francois Bernadi
By Ellen Turner Hall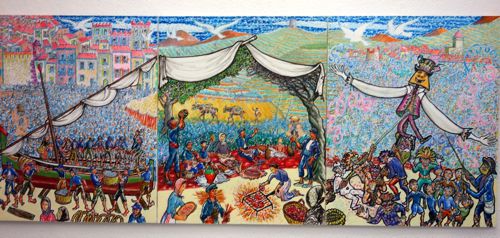 Born in Collioure in 1922 into a family of fishermen, Francois Bernadi's days were intimately entwined with ropes and chains, anchors and sails. From a life begun in poverty and hard work, he created a world rich in exuberant detail on display in the current exhibition at the Musée d'art moderne at Collioure, Francois Bernadi: works from 1945 to 2013.
Bernadi celebrates the people and scenes he witnessed: the care and repair of boats and nets, the dazzle and violence of the bull ring, the miracle of friendship and love. His paintings record the bygone world of boat crews repairing and dying nets, carrying baskets brimming with silver fish or dining amid a heap of sea urchins, their careworn faces, hands and feet lined like contour maps.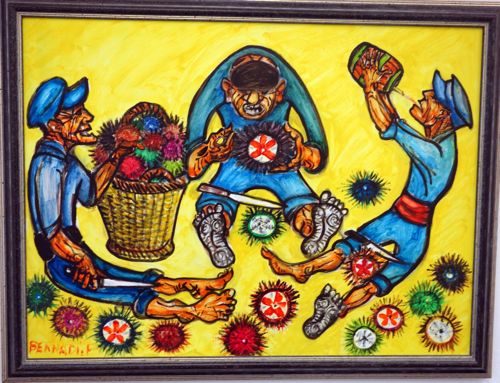 Encouraged and inspired by artists such as Maillol, Hanicotte and Dufy, Francois drew on every surface that came to hand and dreamed of one day writing his own book. Among the 130 works in the exhibition are fourteen of his illustrated notebooks, the pages of songs, stories and travelogues overflowing with drawings of stray cats, shells, fish, women and his universal hero the fisherman.
The most recent work on display painted in 2013, the triptych "La joie de vivre" records moments of celebration. The 91-year-old artist seems to be asking what is it that makes life worthwhile. Bernadi's answer is: baskets full of fish, red peppers roasting on a grill, children dancing with circus clowns. Come join the dance!