BEAUTIFUL PYRENEES, GLORIOUS CLIMATE, GREAT RIVERS … AND THE WONDERFUL MEDITERRANEAN……. WHAT MORE CAN ONE WISH?
with Hannele
A big, big thank you to Hannele for sending us this article, particularly as English is not her first language. We have not edited this article as it would detract from the warm atmosphere she creates in her writing, so please excuse any mistakes and enjoy reading
Have a healthy, fishy PO summer!
As so many others, I came to PO to enjoy the leisurely life and good climate. So we bought a little crooked house in 2007 in a pretty Aspres village, not too high at the mountains but just hilly enough to have motivating walks with the dog.
Now it is time to renovate the house and move in for real. To start the new glorious French life. I am setting my roots by learning the lingo in local language club in Maureillas and with the (oh so un)kindly help of my internet operator.
But something is missing – the French culture, namely the FOOD culture…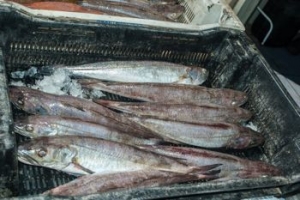 The whole sunny summer in front (and the extra ordinarily cold winter with comfort food behind) of me I am eagerly searching for ways to live and eat healthy. Et Hey presto! Some friends spending time in our house last summer had kindly left me some good clues: a broschure of fishing tours and another one about listing fishers that have direct sales here near us, by the coastal towns of Argéles, Collioure etc …
So here goes: how to catch and eat fish the PO way!
In fact the freshly catched fish are here for sale everywhere – local Intermarches, LeClerck, Carrefour and ofcourse the Auchan with its fish promo days. But mostly the promos are fish that is élevé, so beware! Healthier to eat the wild fish!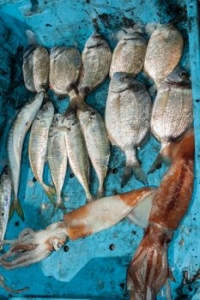 The fish that you can buy from a fishmonger at local markets is good, and there is not so little market that there would not be a fishmonger there with a good selection – pricy, but good. Like the pretty little village near us of St Jean Pla de Corts has an excellent fishmonger there every Tuesday matin. (this I have to check because it has been some time since I was there)
Well so if you are happy with that then you are. But I'm not so for me more searching…
Priceways Spain and especially Figueres is a good place to go "fishing". It seems that in Spain you get your fish gutted and scaled – what an ease in the kitchen. Just beware that you understand which fishes are per kilo and which have unit price. Well the system is the same in France too.
And for fruits and such as well and oh boy, was that not difficult for a Finn in the beginning (we have all per kilo prices and no exceptions ).
If in Barcelona – don't go there without your cold box – the fish there are certainly worth buying for souvenirs if traveling with your own car and ice box. We have bought great fish for drying and for salting there, eating too from the brief visits to the land of Flamenco and the capital of the independent Catalans.
The names of fish though are very different in Spanish, but that's an other story and out of the scope of this study.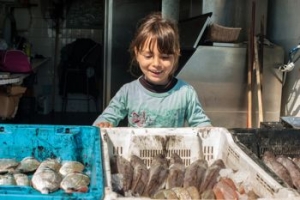 But still, fish is best when directly from the fisher's boat to the eater's kitchen. So my best tip is to go early in the morning to say, Argeles-sur-Mer yachting harbour and buy your daily fish there. Even Sundays ! What can be fresher than fish directly from the fishermen, each of which have a small shop with proper cooling facility and ice for the fish. Je recommends….
Port-Argeles
Bateau St-Sebastien
(Vente de poissons frais`a quai & livraison à domicile, commande avant 10h, arrivages journaliers
Open all days 8-10 (we were there 10:30 and they were the only ones still selling fish)
Early bird catches the worm though! Me being not so early don't usually get there until nearer half past ten and the selection is small then. Better be there at 8 if you can. So here photo of the catch that was offered to me. Me and my Baltic guests decided to go for the baby mackerel and the doredes and nice red fish, the name of which escaped me at the time.
Oh, what a fantastic grill they made! And since we, eager amateur-fisher(wo)men in our native Scan-Baltia, usually we get smaller fish, so this gave good point of comparision. And they were excellent! Yummy!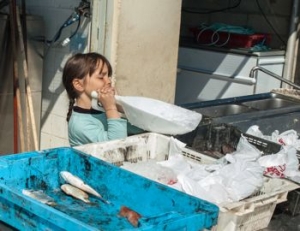 With the mackerel came recipe how to prepare them a la põele and with mustard – a foreign combination to us who usually grill sausages to eat with mustard …but here is the recipy:
Mariné de sardines
Pour 8 personnes
1 kg sardines
8 tranches de pain de campagne
beurre demi-sel
Marinade:
4 cuil. à soupe de vinaigre de vin.
2 cuil. à soupe de sucre
¼ de litre d'huile d'olive
8 petits cornichons en rondelles
1 cuil. a café rases de sel fin
5 feuilles de laurier entières
2 cuil. a soupe d'estragon frais ciselé
5 échalotes finement hachées
2 carottes rapées
12 hours in the fridge and then grill the pain de campagne slices, butter and 2 sardines with a little marinade on top of the bread, voila! I would add some dill weed though, but that is a question of taste.
And quess what?!!? Us ladies are preferred fishermen, the French state has decided to grant us the yearly fishing permit for the very favorable price of 30 eur per annum! The price for the full men is about 60 eur, but then they can have more cannes fishing at one time … well, sound very handsomly manly… They talk about la pêche de loisir en eau douce though so there must be another set of rules for fishing on the sea (and seashore).
The most familiar fish from Mediterranean are according my empirical studies these:
Sardines
Achovies
Dorades
Malins
Turbots
Tuna
FISHING REGULATIONS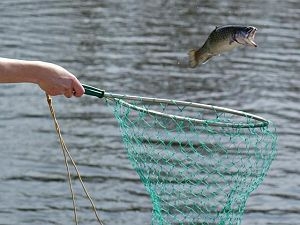 The very nature of the Pyrenees Orientales between sea and mountains means that every imaginable type of fishing can be found in the region. From fast flowing torrents in the mountains to slow relaxing rivers in the plains, from high altitude lakes to salt water lakes on the coast, from shore fishing and surf casting to deep sea fishing, the region really offers a challenging and varied days fishing for the keen angler.
Fishing regulations in the Pyrénées Orientales
Fishing regulations for fresh water fishing are clearly defined and enforced by un garde pêche (fishing warden)
For fishing in rivers and lakes (unless private) you must pay a fishing tax (la taxe piscicole). This is usually in the form of a fishing pass valid for one year (une carte de pêche) which can be bought from fishing shops or some news agents (un bureau de tabac). A 15 consecutive day holiday pass is also available from the 1er of June to the 30th of September. Young people under the age of 16 are eligible for a carte jeune which gives them the same fishing rights as an adult but at a reduced rate.
Dates for the fishing season
Make sure that you know the dates for the opening of the fishing season and where you are allowed to fish (the local tourist office will have this information) as some signs can be very confusing. For example, Réserves de pêche does not mean that it is a place reserved for fishing but that fishing is NOT allowed.
The opening season varies according to the type of fish you are hoping to catch. Fishing rights are split into 3 categories. These categories define

– the type of fishing that can be done
– the type of fish that can be caught and the type of bait that can be used
– where you can fish on rivers and lakes

For more info on fishing in the Pyrenées-Orientales, visit www.peche66.org (French only)