FROM PRADES WITH LOVE – chocolaterie Bruno Daudet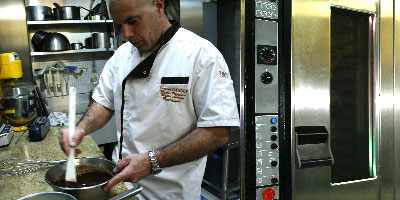 Wander accidentally into the kitchens of the boulangerie chocolaterie Bruno Daudet, in the centre of Prades and you will be assailed by odours of freshly baked bread, cake and delightful homemade chocolate……and soothed by Strauss!
The great composer in this bakery however, is Bruno himself. A worldwide wanderer in his youth, he has injected his cakes and pastries with an international flavour, and hot cross buns and traditional English Christmas cakes can be spotted side by side with home made 'flan' and fresh French cream cakes.
A passionate chocolate maker, Bruno believes that the old methods are the best. High quality chocolates, lovingly produced by hand, adorn the shelves of this small 'grand cru' chocolate emporium.
Truffles with a hint of whisky, cinnamon, and orange, all shades and shapes of milk, plain or white chocolates with different 'ganache', silky chocolate mixture flavoured with mouth watering mint , honey , liqueur……. Soooooooooooo nice.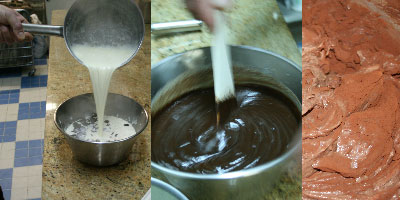 Bruno's health and hygiene standards are high. Despite my begging and badgering, he refused to let me lick out the bowl!
From December, you will be able to select individual choccies according to your budget, either in person or by Internet, and have them sent to friends and family all over the world – a fabulous Christmas, birthday, Valentine or Mothers day present – FROM PRADES WITH LOVE.
Chocolaterie Bruno Daudet
10, rue Jean Jaurès
66500 Prades
Tél. : 04 68 96 44 10
Port. : 06 14 32 17 96
Site