Jane Mann: Three on the Table
by Ellen Hall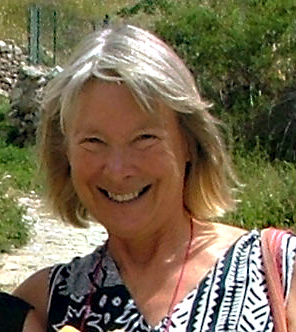 Between writing the must-have "A Day Out" for P.O. Life (of which she is co-editor), guide books and novels and being "a seaside landlady", Jane Mann is always on the go. Her other interests include photography, gardening, travel, meeting new people, and, especially, time with friends and family. I caught up with her at her favourite place, the coastal path between Port Vendres and Paulilles. Lavender and rosemary provided the perfect backdrop to Jane's own casual beauty.
Growing up in England, she loved the stories her father read t her and "wanted to be part of that magic". Jane started writing at the age of eight. She likes to write about places she knows, especially the PO where she has lived for the past 10 years. While most of her best ideas come to her when driving, she finds in her studio in the Aspres mountains the silence and calm necessary for writing.
Having "no authenticated qualifications" has been a stimulus to incredible energy. Hobbies became careers:from a love of cooking to a restaurant, from taking snapshots to a photography business, from doing up a house to property rentals, from joining the Albères Writers Group and working with Kate Hareng at P.O. Life to publishing three books in 2009.
***"Careless Love" is a novel set in the P.O. about a complicated mid-life affair. Jane's favourite character is the baby in the novel who holds out hope for the future, while the others are all set in their ways.
***"Collioure A to Z" is a guide written with her innate sense for the telling detail and her ability to render historical periods with a light touch.
*** "Absolutely Almost All About the P.O.", her guidebook to the region, can be found under "A"!
Future projects include a second novel, "Come Away" about a group of ill-matched characters on a European bus tour in the 70's and a book about 20th century artists in Collioure.
Jane's dream of many years, to have a book on the table in Perpignan airport, is about to be realized – in triplicate! If you don't find all three on the airport table, you can order them from Amazon.
Last words from Jane: "All I really want to come across is how I love the P.O. and living here, how great it is to be writing to a larger audience than just me and what a ridiculous and varied and basically lucky and wonderful life I've had so far."
Available from most major Maisons de la Presse and also from the FNAC on line. Delivery is free in France.
You can also email Jane directly and arrange for a copy of any of these books to be posted to you.