La Galette des Rois (King's Cake)
(In 2023, Epiphany falls on the Friday January 6th.)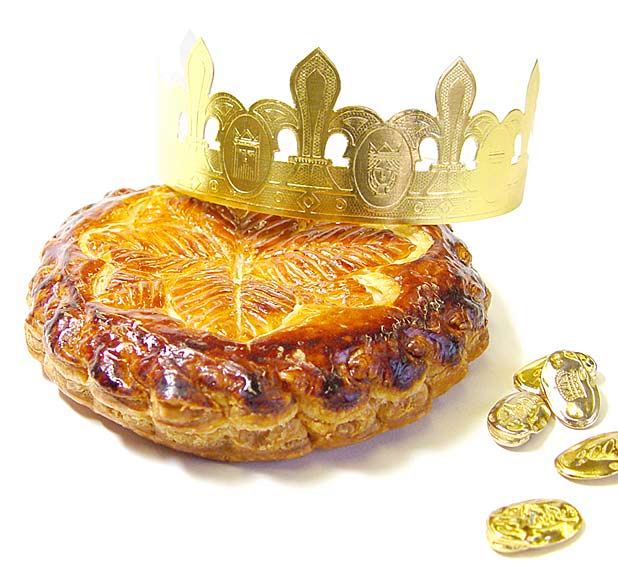 The French have a bit of a reputation for mistreating their royalty, but fortunately these days, it is more about cutting up cakes than carving up kings.
Look around the patisseries and supermarkets in France at the beginning of January, and you can't miss the special 'gateaux' prepared for the Fête des Rois.
This French tradition of serving a frangipane filled tart known as the 'galette des rois' (or the 'gateau des rois' in the South of France) on, or around the 6th January, (the first Sunday of each New Year) actually dates back to the 14th century.
The festival takes place around Epiphany, the twelfth day of Christmas, when the wise men visited baby Jesus.
According to tradition, the 'galette des rois', was to "draw the kings" to the Epiphany.
It goes rather well with a cup of tea or a glass or two of white wine and is the perfect opportunity to invite family and friends or maybe get together with those neighbours you haven't yet met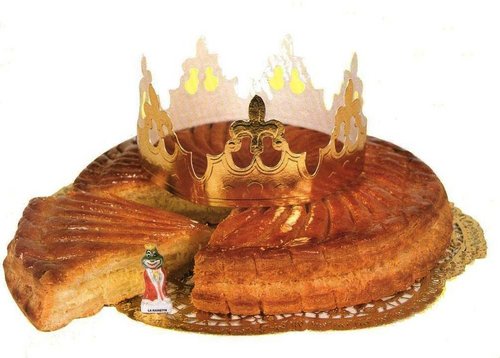 During the French Revolution, the name was replaced with 'Gâteau de l'Égalité' (equality cake), as the word 'king' was a little out of fashion!
Although a normal school and working day, La Fête des Rois is still very much a family tradition.
A 'fève' (originally a bean but now tends to be a plastic trinket) is baked inside the cake and the cake is shared around the table. Whoever receives the fève is then crowned king or queen for the day and has the much coveted opportunity of bossing the rest of the family about! That same person can also choose someone to be their king or queen.
According to tradition, the cake should be cut into as many slices as there are people present, plus 1 extra.
This extra slice is called either, the 'part du Bon Dieu' (God's slice), the 'part de la Vierge' (the Virgin Mary's slice) or the 'part du pauvre' (poor man's slice) and should be offered to the first poor person who pops in!
RECIPE: Galette des Rois
INGREDIENTS


2 sheets ready rolled puff pastry

140g ground almond

75g soft butter

80g sugar

3 egg whites

1 yolk
Mix the butter and the sugar until the mix
whitens, then add the beaten eggs and the ground almond.
Mix well.
In the middle of the first sheet of puff pastry, pour the mix.
Lay the second sheet on top, and roll the sides of the sheets together towards the inside to seal the galette.
With a knife, draw diagonal lines in both direction (so that they cross each other) to create the pattern.
With a brush, spread the yolk on the whole cake to give it a golden colour.
Put in an oven for 30 minutes at 200 degrees
Serve hot – but it is excellent cold too.