Le Petomane: Entertain me from a distance please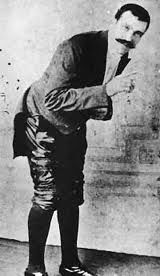 Marseilles born Joseph Pujol was a natural entertainer as a young boy, showing talent in both acting and music. Despite being skilled on the trombone, it was a completely different type of wind instrument that brought him fame and fortune.
In fact, Joseph Pujol became a very famous vaudeville act due to his amazing ability to control the muscles of his derrière!
His stage name of Le Petomane (loosely translated as "the farter") rather gives it away!
One of the highlights of his act was pumping out the Marseillaise through his bottom!
At the beginning of each show, he would explain to the audience that the emissions he was about to produce were completely odorless, as he irrigated his colon daily.He became one of the most well-known and highly paid entertainers in France.